Welcome to My Sexy Saturday Week 177, where authors tease you with seven sentences or paragraphs from their sexy stories!



This week's theme is My Sexy Hunk.
Who are our romance heroes? We've written ranchers, professors, carpenters, forest rangers, photographers, horse trainers, day traders, detectives… But what could be more hunky than a carpenter/contractor who's also a race car driver? Thought so. Bobbi Jo has known Jack since childhood days, but her family moved her away when she was a teenager. Now she's come to him with a very special problem she just knows he can solve for her.
She's desperately seeking a sex tutor – what if he demands total control?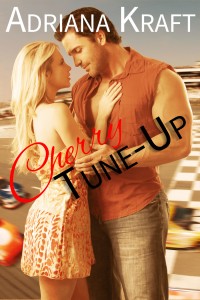 Cherry Tune-Up
Novel: 31,000 words
Four Flames: Explicit sex: M/F, F/F; Ménage: F/F/M; light bondage; voyeurism; anal sex; sex toys.
BLURB
Desperate for a crash course in lovemaking, Bobbi Jo Martin seeks out her childhood best friend. A successful contractor with NASCAR dreams, Jack Day has never forgotten her—but how will he protect his heart?  In a moment of sheer genius he decides to play the role of master…
EXCERPT
Bobbi Jo glanced up to see Jack enter, and her heartbeat quickened. His dark hair, damp from the shower, curled over a dark green T-shirt that clung to his chest like it was glued on. There was no flab. He'd tucked the shirt into an equally tight fitting pair of dark jeans—worn, but clean. She avoided dropping her gaze to his waist.
His dark eyes were also appraising her. She blinked. The tiny scar on his left cheek, the result of misguided stone she'd thrown at him in a childish tantrum, twitched a warning. His nostrils flared slightly like she'd seen stallions do when they first caught the scent of a new mare. His lips thinned.
She flinched, remembering the effect those lips once had on hers. But they weren't teenagers anymore. So why was her skin on fire? This time, his lips would lead to much more—much, much more.
BUY LINKS
Cherry Tune-Up is now available at both Sea to Sky Books and Amazon

Sea to Sky Books is a new retail e-book vendor dedicated to indie-pubbed books and authors. We've just started placing our books there – check it out. You'll find some of your favorite authors!
Be sure to sneak a peek at all the other sexy hunks at the links below!