Did you think just because My Sexy Saturday is taking a holiday we wouldn't offer you a short excerpt as a Christmas gift? Never!
It's Christmas Eve – what gifts will Mack, Carol and Tara unwrap together?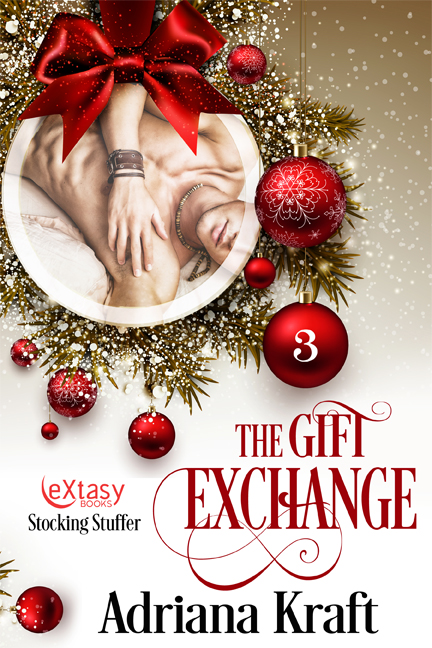 BLURB
What is Carol up to now? Mack has always known his free-spirited wife is bisexual, but it seems she has new adventures on her mind this Christmas season.
Carol has long entertained fantasies of a threesome with herself, her husband, and their attractive nearby neighbor, Tara.  Now that Tara's troublesome ex is out of the picture, is this the season to make her fantasies come true?
Tara's felt a little deprived since cutting things off with her ex, and she'll admit she envies what Mack and her best friend Carol seem to share. If they invite her to join them, will she dare?
EXCERPT
It's Christmas eve…
"Let's see." Carol handed one light package to Tara and they both began to carefully pull at the tissue paper.
"Oh my," Tara gasped. "Santa has sexy naughty taste."
"He does, doesn't he?" Carol held up a sheer pale white camisole and watched Tara do the same.
"They match," Tara said as if surprised.
Mack cleared his throat. "Wow."
"Do you think Santa got the right sizes?" Carol looked at Tara.
Tara made a show of carefully examining the thin material. "Hard to tell. He must've forgotten to get us bottoms."
BUY LINK   
The Gift Exchange and all this year's sexy Stocking Stuffers are only available at Extasy Books, where there's still plenty of time to fill any stockings in your life that may need a quick sizzling read.


If you've never bought a book from the Extasy website, no worries about being able to load onto your kindle. First, sign up for an Extasy account (it's free). Then before you buy any books, in your Amazon Kindle account, enter @extasybooks.com as "allowed." On your eXtasy account page, enter your Kindle email. You will find your Kindle email address at Amazon on your Kindle account pages. Once you have this set up, click on the download button, and Kindle will appear on the download menu. Click on that and your book will automatically arrive on your Kindle device.
My Sexy Saturday and all its marvelous authors will be back to tempt you with new excerpts for the New Year on Saturday, January 7!