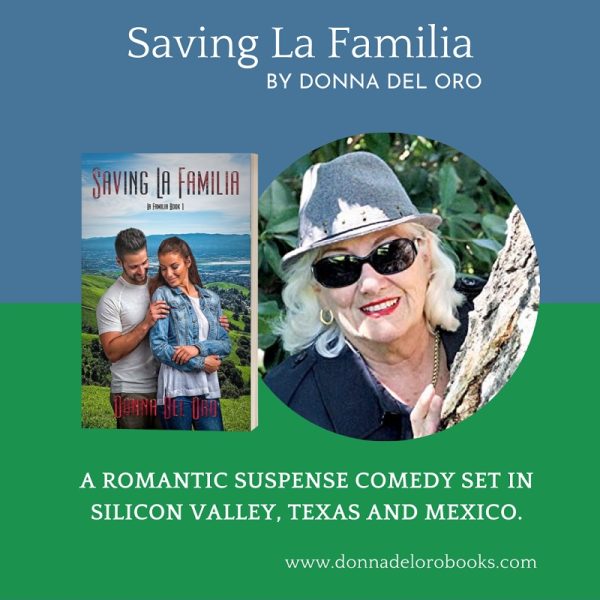 I'm thrilled to welcome Donna Del Oro to the blog today – her comedy-suspense novel Saving La Familia is on sale at Extasy Books, 40% off.
SAVING LA FAMILIA BY DONNA DEL ORO
WINNER OF THE SILVER FALCHION AWARD 2022
FOR BEST COMEDY-SUSPENSE NOVEL!
BLURB
A scrappy Latina teacher, Dina Salazar, is recruited by her Mexican-born grandmother to save her cousins who are hiding from a dangerous Mexican drug cartel. Being an amateur sleuth is no picnic, so Dina enlists the help of a Hispanic DEA agent, her best friend and fellow teacher, her screwball brother-in-law, and her hated ex-fiance, Rick Ramos.
Crossing the Texas border into Zeta territory is the most dangerous thing she's ever done—aside from falling in love with the hated Rick—but heck, what's a girl to do when "la familia" calls?
REVIEWS
"One of the best comedy suspense books I've ever read!"—Harriet Fox, author
"Chuckled all the way through this book!"—J.T. Mrizek, graphic designer
"Thoroughly entertaining! "—Keyes Lloyd, reader and fan
EXCERPT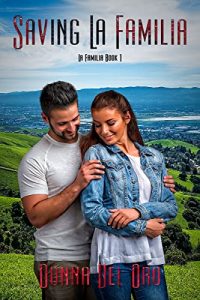 How did I, in three short months, get to the heart of my Mexican-American family? It wasn't easy, believe me. Especially since I was the family's desgraciada. The disgraced one. Ever since I turned eighteen and had my legal name changed from Dolores—which means aches and pains in Spanish—to Dina. My namesake, Grandma Dolores Gómez, refused to speak to me or acknowledge my existence for about a year after the name change. Before that, I was simply the family brat and rebel. The know-it-all.
But you see, Grandma was the heart of the matter. And the big, dark secrets she kept closed up in her heart all got exposed in those tumultuous months. And before I could blink and realize what was happening, I was roped into a scheme to rescue cousins I never knew I had out of the deadly clutches of a Mexican drug cartel. Why was I chosen, you ask? Me, Dina Salazar, the desgraciada? A single schoolteacher with a long line of loser-boyfriends? How did I end up looking up the barrel of a cartel commando's automatic weapon? Come along with me and I'll tell you.
It took five years—six, counting my teaching credential—to work my way through college and, oh yeah, I lost my fiancé along the way—according to Mama and Abuelita, my only chance at happiness. Their idea of happiness meant you married young, spent the next twenty years changing diapers, cooking and cleaning for a man you seldom saw because he was working two or three jobs to pay for all the mouths you'd brought into the world…
¡Gracias a Dios!
Horrors, in my opinion.
BUY LINKS
SALE! 40% off, now through December 31 at Extasy Books:
https://www.extasybooks.com/Saving-La-Familia
Also available at Amazon: https://www.amazon.com/dp/B09PN7K2S8/
BIO
Donna Del Oro's dream since childhood (when she used to create her own comic books and share them with her friends) has been to write fiction. Escaping the humdrum of ordinary life always seemed to her an ideal form of self-entertainment. Better than TV and even better than some books! As soon as she retired from high school teaching (which was a suspenseful adventure in itself), Donna turned to fiction writing. Becoming a member of the RWA and Sisters in Crime has helped her to learn the craft and focus on what she needed to do to get published.
Besides writing Chica Lit, she writes romantic suspense and thrillers. Her latest release, SAVING LA FAMILIA, recently won THE 2022 SILVER FALCHION AWARD FOR BEST COMEDY-SUSPENSE at the KILLER NASHVILLE INTERNATIONAL CONFERENCE in Nashville, Tennessee, August 18-21, 2022! WHAT A THRILL AND HONOR!
Look for the SEQUEL to SAVING LA FAMILIA coming in 2023/2024! SAVING EL TONTO!
Click the graphic to check out all the books on sale at Extasy Books: