Welcome to MidWeek Tease, where authors share tempting snippets to tide you over till the weekend. A huge shout out to author Angelica Dawson for hosting our blog hop every week!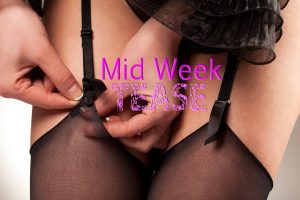 This week we're dropping back to Book One in our Meghan's Playhouse series, Seducing Cat. If you enjoyed our snippets from A Ring for Christmas (Book Four), this is where Meghan got her start – and it's on sale!
SALE!!
Only five more days to get our entire
Extasy Books back list at 30% off! 
EXCERPT
Set-Up: Sunbathing nude on Cat's lawn, Meg's been scheming how she'll go about hooking Cat up with Kurt…
No, Meg would have to bring the two together herself. And the only way she knew how to do that was by sharing herself and her many talents with each of them. Giggling, Meg slung her robe over her arm and padded toward the house.
"What the hell are you doing?"
Meg spun around to greet the owner of the throaty voice. She didn't bother covering up—Kurt always appreciated her comfort with nudity. "What does it look like? Working on my tan."
"Buck naked?"
"Of course. How else would I manage a full body tan?"
He pulled off his work gloves. "Aren't you afraid someone might see you?"
Meg glanced around the yard at the tall fence and the thick shrubbery. "That's not going to happen."
"What about her?" He spat the words out, jerking his head toward the office window. "The professor could see you."
"So?" She gave him a broad smile.
Kurt narrowed his eyes. "Now what the hell are you up to, kid?"
She shrugged and waited for him to put the pieces together. Her nipples grew taut under his steady glare. She loved it when she irked him to the point that he looked like he wanted to blow smoke from his ears. She could almost see smoke now.
His features darkened. "You're not." He took a step toward her.
She didn't flinch. She trusted Kurt with every bone in her body. He might get royally pissed, but there was no way he'd hurt her. She arched an eyebrow at him. "Oh yes, I am."
What could college English Professor Caitlin Shanahan ever have in common with the brash carpenter Kurt Davis?  The sexy sprite Meghan Keenan, that's what.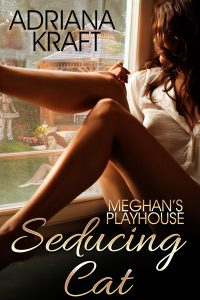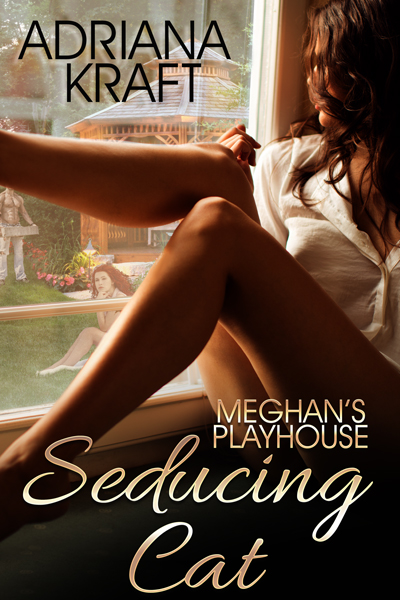 Meghan's Playhouse
Book One
May, 2017
Extasy Books
Novella, 28,000 words
Cover by Syneca Featherstone
Heat Rating
Four Flames:
Explicit sex: M/F, F/F;
Ménage: F/F/M, F/M/F;
anal sex; sex toys
~ o ~ o ~ o ~ o ~ o ~
Be sure to check out the rest of the Midweek teases from these marvelous authors: