I'm so excited ~ Swinging Games Book Ten has just been released at eXtasy Books! Scroll to the bottom for my contest!
Hubs and I feel like we can't get this couple's adventures in the swing lifestyle down on the page fast enough – they're definitely hard to keep up with, and they take no prisoners in their quest to keep their sex life vibrant and vigorous through their mid-life years. Well, maybe Jen sort of took a prisoner…
Jen and Brett have been spending the summer with their house guest, the recently widowed Sarah Creston. Jen's possessiveness has ignited jealousy in the couple's long term swing buddies, their neighbors Ryan and Donna, who now aren't speaking to them. Even Brett's been worried what will happen next.
Here's cover, blurb and excerpt ~ enjoy!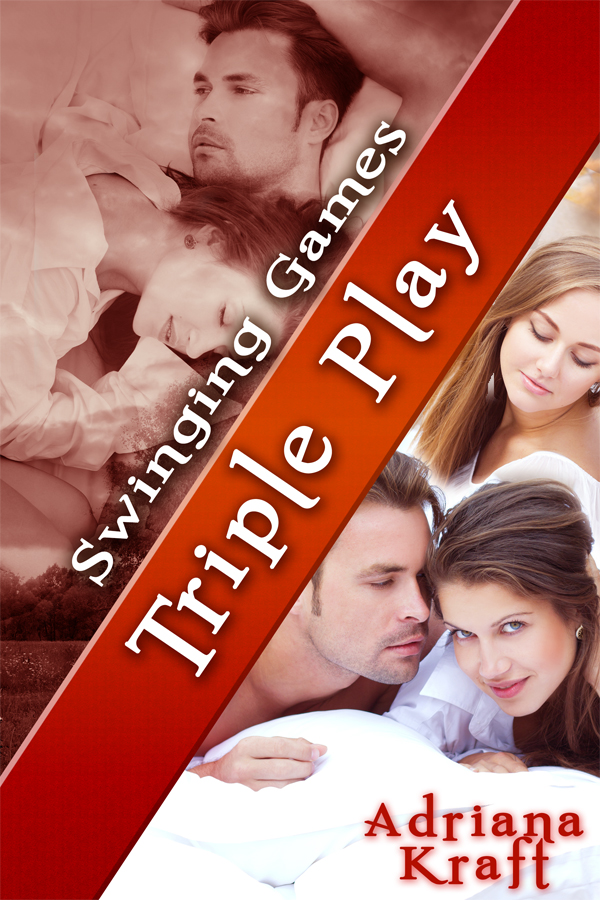 Threesomes are so tempting…but can they last?
 Heat Rating: Five Flames ~ f/f, m/f, menage, m/f/f, f/f/f and more
BLURB
Summer looks full of promise for swingers Jen and Brett Andrews—ever since Sarah Creston's arrival, three-way possibilities for mind-shattering sex seem endless. Secretly, Jen's a little pleased their best friends Donna and Ryan Powers still aren't speaking. This way, Jen doesn't have to share.
Thrilled with her new lifestyle, Sarah makes up for lost time and wants to taste everything—but even she can feel the rift. Ever classy, Sarah resolves to do what's right and reach out to Donna, no matter the risk. Can she prevent the train wreck, or will Jen and Donna derail her efforts? And if she succeeds, would some three-way makeup sex with the two women be too much to hope for?
EXCERPT
"I can't tell you how well loved my body feels this morning." Enjoying the slow smile creeping across Brett's face, Sarah took a bite of toast. "You guys were awesome last night and I love being awakened with you dragging your stiff cock up and down my pussy slit. I was soaking by the time I could open my eyes."
"I noticed," Brett said, now grinning from ear to ear. "It was fun watching your nips enlarge as Jen tapped each one to get their attention."
"She's good," Sarah acknowledged, "you both are. Speaking of Jen—she seems to be moving a little slowly this morning." She gave Brett a wink. "You really screwed her royally last night. I've never seen you that aggressive."
"That's what she said she wanted."
"Oh, I heard her. And I doubt she has any regrets. Still, she's moving a little slower than usual."
Brett pushed his chair back from the table at the sound of phone ringing.
"I'll get it!" Jen shouted down the stairs.
Brett lifted a cup of coffee and swallowed deeply. "Damn, you make excellent coffee. I like mine black. You sure use a lot cream in yours."
Sarah grinned. "I like cream. You should know that by now."
Brett coughed. "You had Jen creaming nicely this morning. She doesn't do that for everyone."
"Maybe I'm more talented than I thought."
"You're talented, girl—damn talented. I know Alice and Jen would both agree. You seem to have a way with those long fingers of yours."
She playfully stuck an index finger in her mouth and sucked slowly before withdrawing it and sticking her tongue out at him.
~ ~ ~ ~ ~ ~ ~ ~ ~ ~
CONTEST:
To enter for a free download of Triple Play, leave me a comment. I'd love to know what your fave type of scene is and why. Contest is open today, 9/15, through Wednesday, 9/19. Plus, if you're a newsletter subscriber, you'll be entered in my monthly contest, as well.