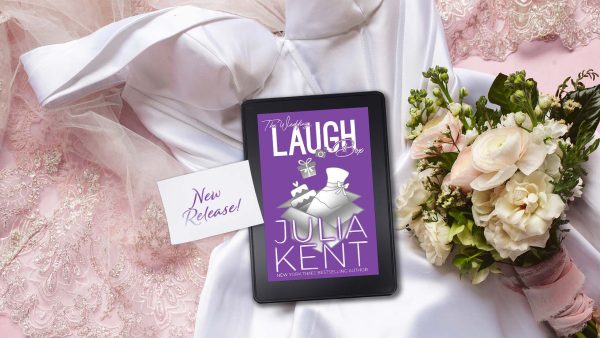 Release date: November 8, 2022
Genre: Romantic Comedy, Contemporary Romance
Cover Designer:  Angela Jenks
Tropes/Themes:  Weddings, Runaway Bride, Bridezilla, Momzilla, Bridesmaids, Honeymoons, Friends and Family
Retailer Description:
The Wedding Laughbox contains FIVE full-length novels and ONE ALL NEW NOVELLA! – from a variety of New York Times bestselling romantic comedy author Julia Kent's series.
It's wedding season, and what's better than a wedding in rom com style?
Julia Kent's madcap style, that is.
How about a campground double wedding with three grooms and two brides? (What? Yep…) Or a billionaire and his betrothed escaping their own wedding to flee to Vegas? Paparazzi galore and a stubborn father of the groom ruining a CEO's planned nuptials until he takes matters into his own hands and does love his way? A disgruntled older sister watching her sister find wedded bliss and maybe, just maybe, finding her own love with a rival billionaire?
With five different stories you get bridezillas, momzillas — even a billionaire dadzilla – with over-the-top fun and lush, luxurious settings, all wrapped up in community, connection, and loads of fun.
This boxed set includes:
Shopping for a Billionaire's Wife
Shopping for a CEO's Wife
It's Always Complicated
Random Acts of Love
Hasty
And Tasty, an ALL NEW novella featuring Will and Mallory from the book Fluffy, as they go on their honeymoon and discover that life is nothing but a series of coincidences as their past comes back to haunt them with hilarious results.
Sink into SIX humor-filled books that pour you into wedding planning, bachelorette and bachelor parties, give you all the wedding jitters and proud family moments, all wrapped up in a huge boxed set you can sink into and find your way to long-term love.
Note: each of these books can be read as a standalone, but they are part of larger series. All of my Laughbox boxed sets are designed to give readers a taste of my books, centered on a specific concept (in this case, weddings). Full disclosure for readers.
Excerpt:
From Shopping for a Billionaire's Wife
"Seriously, Dec? We just fled a thousand-person wedding in our honor and all you can think about is getting above the garter?"
His confusion just increases. "Yes," he answers honestly.
I throw my hands in the air, whacking some sort of strap that stretches behind my shoulder. It begins to flap in the wind as we race toward whatever landing strip we'll use to disembark. As it fut-fut-futs against my veil, I realize the wind isn't whipping the long, white lace behind me. When we crawled into the helicopter and Declan put on my harness, he tucked my veil in.
I love him so much.
Buy Links: 
Amazon US:  https://www.amazon.com/gp/product/B0BDJ6N5JX/
Amazon UK:  https://www.amazon.co.uk/gp/product/B0BDJ6N5JX/
Amazon AU:  https://www.amazon.com.au/gp/product/B0BDJ6N5JX/
Amazon CA:  https://www.amazon.ca/gp/product/B0BDJ6N5JX/
Apple Books:  https://books.apple.com/us/book/the-wedding-laughbox/id6443371428
Kobo:  https://www.kobo.com/us/en/ebook/the-wedding-laughbox
Nook:  https://www.barnesandnoble.com/w/the-wedding-laughbox-julia-kent/1142465749?ean=2940186697930
Google Play:  https://play.google.com/store/books/details/Julia_Kent_The_Wedding_Laughbox?id=csSHEAAAQBAJ
Website:  https://jkentauthor.com/books/book-bundles/
BookBub:  https://www.bookbub.com/books/the-wedding-laughbox-laughbox-boxed-sets-book-3-by-julia-kent
Goodreads:  https://www.goodreads.com/book/show/62575614-the-wedding-laughbox
Author Bio:
New York Times and USA Today bestselling author Julia Kent writes romantic comedy with an edge. Since 2013, she has sold more than 2 million books, with 4 New York Times bestsellers and more than 21 appearances on the USA Today bestseller list. Her books have been translated into French, German, and Italian, with more titles releasing in the future.
From billionaires to BBWs to new adult rock stars, Julia finds a sensual, goofy joy in every contemporary romance she writes. Unlike Shannon from Shopping for a Billionaire, she did not meet her husband after dropping her phone in a men's room toilet (and he isn't a billionaire she met in a romantic comedy).
She lives in New England with her husband and three children where she is the only person in the household with the gene required to change empty toilet paper rolls.
She loves to hear from her readers by email at [email protected], on Twitter @jkentauthor, on Facebook at @jkentauthor, and on Instagram @jkentauthor. Visit her at http://jkentauthor.com
Social Media Links:
Website:  http://jkentauthor.com/
Facebook:  https://www.facebook.com/jkentauthor/
Twitter:  https://twitter.com/jkentauthor
Newsletter:  http://bit.ly/2PIBi9n
Instagram:  https://www.instagram.com/jkentauthor/
BookBub:  https://www.bookbub.com/authors/julia-kent
Goodreads:  https://www.goodreads.com/author/show/3238619.Julia_Kent
Amazon Author Page:  https://www.amazon.com/Julia-Kent/e/B00A99V268/
Release blitz organized by Writer Marketing Services.