Welcome to MidWeek Tease, where authors share tempting snippets to tide you over till the weekend. A huge shout out to author Angelica Dawson for hosting our blog hop every week!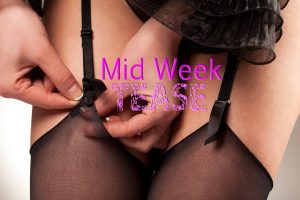 A Ring for Christmas
Now Available at Amazon and Extasy Books!
EXCERPT
Set-up: Sometimes showing is more powerful than telling. Since both Meg and Lisa are actresses, they've told Bryce they need a photo shoot for some upcoming plays…
Hearing the women enter at last, Bryce looked up from his work. He blinked. They were dressed alike. If one wasn't a redhead and one a blonde, they would've been difficult to tell apart. They wore very short wrap-around green skirts trimmed in yellow. Bare midriffs were set off by sheer white tops. Clearly neither wore a bra. Meg's nipples were darker than Lisa's. Lisa's nipples stood out, as if she was turned on. Their feet were adorned in tiny felt boots.
Bryce wet his lips and tried to steady his breathing. He smiled as each woman placed a matching green elf-like hat on the other woman's head.
"Merry Christmas," they said, turning to blow him a kiss.
"Do that again," Bryce said, grabbing his camera. "I wasn't prepared for your grand entrance."
Bryce snapped pic after pic as the women knelt on the couch facing each other. They giggled and played a patty-cake game. Their boobs rose and fell in unison.
As if one, they turned to face him, "We're Santa's helpers. Have you been naughty or nice?" They leaned forward and brushed lips. Again, looking back at him they sang out, "We've been nice and naughty. Can't you see?"
Bryce didn't think they expected a response from him. Maybe their intended audience would laugh, cheer and applaud. He moved about, getting pics from as many angles as he could manage. Damn, they looked enticing. Bryce shook his head, hoping his cock wouldn't move beyond half-mast. At least he had on loose-fitting trousers.
Through the lens he watched the two women hug, crushing their breasts between them. In that pose they turned and winked at the camera. He watched Lisa lower a hand to cup Meg's ass as Meg did the same. Their skirts scrunched almost to waist high. Bryce blinked. He thought they'd worn thongs, but now it became quite clear if those outfits came with thongs, they'd been left in the dressing room. Bryce swallowed. What kind of play was this? And why did Lisa look so natural hugging—no, making out with a woman?
Lisa looked at him. He saw her inhale sharply before she spoke. "Naughty can be lots of fun."

Title: A Ring for Christmas
Series: Meghan's Playhouse
Book Four
Author: Adriana Kraft
Length: 11,000 words
Genre: Erotic Romance, ménage, LGBT
Heat Level:
Four flames: explicit sex, M/F, F/F;
Ménage, F/F/M, F/M/F; explicit language
BUY LINKS
BLURB
A ring for Christmas? Sometimes what you hope for and what you fear are one and the same.
In Las Vegas for a brief stint in a musical revue and ready for some uncomplicated sex with a kindred spirit, Meghan Keenan is only too happy to resume connections with her sometimes lover, Lisa Perkins.
But Lisa's in a quandary. Her most recent boyfriend has suddenly become serious, with hints of a diamond ring in her future—and she's never told him she's bisexual. What if he freaks? What if he makes her choose?
Professional photographer Bryce Henry spends his days up close and personal with beautiful models and actresses. Now he's deeply in love with Lisa and ready to pop the question, but even he wonders about long term fidelity. What does he want, and how bad does he want it?
What will happen when Meg takes hold of Lisa's problem and runs with it?
~ o ~ o ~ o ~ o ~ o ~
Be sure to check out the rest of the Midweek teases from these marvelous authors: