What will They Unwrap?
Welcome to the 168th week
of My Sexy Saturday!

This week's theme is My Sexy Holidays. We think Mack and Carol Walker are definitely headed for a sexy holiday… Their story will be released December 3 at Extasy Books, where there'll be a Stocking Stuffer short story every day until Christmas!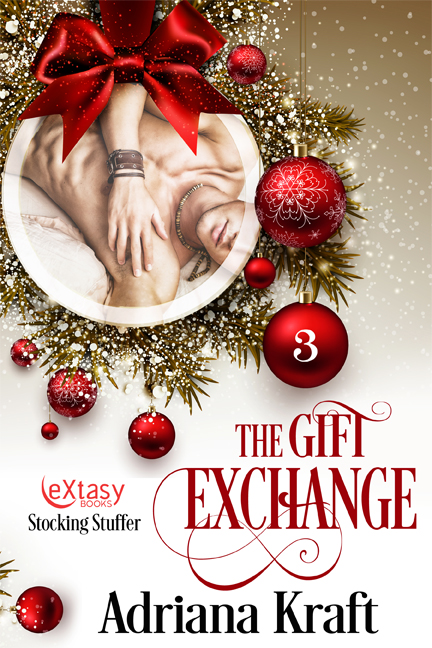 It's Christmas Eve—
what gifts will Mack, Carol and Tara
unwrap together?
Here are the opening seven paragraphs:
"Life doesn't get much better than this." Mack Walker hugged his wife closer as they gazed at the blanket of stars enshrouding the crisp northern Minnesota night.
Carol playfully splashed heated water at her husband before sliding her hand down toward his crotch. "We could make it even better. I love our privacy. No one can see our hot tub."
Mack chuckled. "They'd have to be nearly on top of us with night vision goggles. Our closest neighbor is half a mile away."
"If they get that close, they might be wanting to join us for a little fun." She squeezed his lengthening cock.
He tugged at her nipple. "Fantasies. Fantasies. But such talk does always gets us going. Your wild side comes out when you think about another couple joining us."
"And you like my wild side."
"Very much."
BUY LINK ~ December 3

Be sure to click below to travel to the other great authors for their sexy excerpts!