Welcome to the 166th week of My Sexy Saturday!

This week's theme is My Sexy Ex. Could be the one that got away, the one a hero or heroine tracks down across the universe to find and reunite with, or maybe just the fantasy that fuels a new relationship.
Here's a very different kind of "Ex" – what happens when the love of your life no longer has any sexual response? Jen and Brett are about to find out with Ned and Elizabeth in A Tempting Taste (Swinging Games Book Three). Here are seven paragraphs:
Jen clicked on the swinging lifestyle web site. Her heartbeat quickened — they had mail. She brought up the mailbox and saw that Elizabeth and Ned had finally responded. She inhaled deeply, then pushed the button. Would they want to get together, or had they changed their minds?
Hi Jen and Brett,
So good to get your positive response! Great pics!
Jen relaxed and settled back to read what appeared to be a long email.
We're so pleased you're willing to give us a try. We know our situation is awkward for most folks, but Ned really wants me not to miss out on what he can no longer provide. And I must confess, I do love having sex with a man and a woman. This arrangement may seem too strange to many, but it works for us. And ultimately, that's what counts. We all have choices to make."
Jen nodded. Would she and Brett have the kind of courage Elizabeth and Ned seemed to possess? Would their love survive such a personal calamity? She hoped never to find out, but her appreciation for Elizabeth and Ned deepened the more she learned about them. Alice and Carl thought the couple were special—so they probably were. She scrolled further down the page.
Vibrators are nice, but for me they don't replicate the real thing. I thank God daily that Ned is so supportive. Of course, I wouldn't think of hooking up with anyone without him being present. It may seem strange to you, but he really is involved. I wonder if he wasn't a voyeur all his life. He loves to watch and cheer us on. And occasionally he'll get so excited he'll help us with a finger or a toy. I wish you would've had a chance to know him before…he really could please a woman. He still does. Only now, he has to depend on surrogates. Perhaps I've said more than I should, but we both want you to be as at ease as possible. We know you'll be comfortable with us once you meet us. We are so grateful to Carl and Alice, who help screen possible playmates for us. That's why we have no problem inviting you to our home. Ned gets quite anxious in hotel rooms. We can hardly wait until next month. I am so looking forward to playing with each of you. I've been moist pretty much ever since I saw your pics. I love slow sensuous play with a woman. With a man, I like a little more athleticism. What do you two like? I'm sure we'll come up with things to satisfy all of us. Ned often enjoys playing choreographer. Hope that won't be a problem. If it is, he'll stop. Not to worry. I seem to be perseverating, so I'll sign off for now. Maybe I'm the anxious one. LOL! Hugs, Elizabeth
Click HERE for a tempting taste of how Ned directs their play…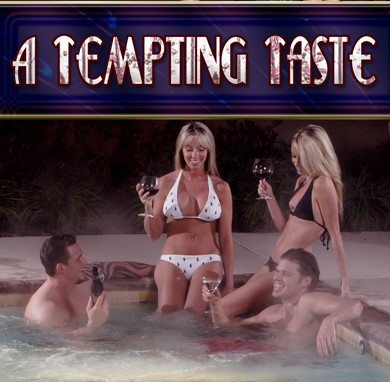 A little voyeurism, some role-playing,
a taste of m/m, ménage for three and four –
the swinging world is heating up
for Jennifer and Brett Andrews!
You can read Brett and Jen's first five adventures in a new bundle available only at Extasy Books: Swinging Games Books One through Five.
BUY LINK

Featured in this Bundle:
Swinging Games Book One: Anticipation
Swinging Games Book Two: Hookups
Swinging Games Book Three: A Tempting Taste
Swinging Games Book Four: Complexities
Swinging Games Book Five: The Adventure Continues
If you've never bought a book from the Extasy website, no worries about being able to load onto your kindle. First, sign up for an Extasy account (it's free). Then before you buy any books, in your Amazon Kindle account, enter @extasybooks.com as "allowed." On your eXtasy account page, enter your Kindle email. You will find your Kindle email address at Amazon on your Kindle account pages. Once you have this set up, click on the download button, and Kindle will appear on the download menu. Click on that and your book will automatically arrive on your Kindle device.
Be sure to click below to travel to the other great authors for their sexy excerpts!