Welcome to My Sexy Saturday!


This week's theme is My Sexy Stranger.
This stranger has been vouched for. Maggie Anderson's insurance broker, an old family friend, takes a pretty dim view of her scheme to raise race horses on the family farm she's inherited, but he doesn't want to see her fail. He refers her to a trainer who's down on his luck after being unfairly accused in a racetrack scandal.
Readers of Riders Up: Book One can vouch for Ed Harrington, too, though they probably didn't like him in Cassie's Hope. Cocky and annoying, he vied with Clint for Cassie's affections, and was briefly under suspicion for being the one who drugged her horse, though cleared in the end. But he's fallen on hard times since then, and Maggie finds him in a Des Moines flophouse. In spite of her misgivings, she offers him a job, but she doesn't expect to ever see him again.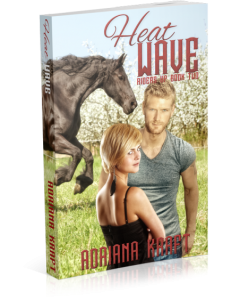 Hang onto the land – but at what cost? Feisty widow hires ace racehorse trainer to salvage her family's heritage. Can they survive escalating threats to life and limb?
EXCERPT
"Mom. Mom!" shouted the smallish tow-headed boy dashing up the porch steps.
"What is it, Johnny? You'd think the devil was chasing you." She'd never understand why boys always rushed around so.
Johnny skidded to a halt before her while the screen door banged loudly behind him.
"Somebody's coming, Mom."
"Who?"
"Don't know. The truck ain't familiar," the boy drawled.
"Isn't," both mother and sister corrected.
Johnny rolled his eyes. "There he comes now."
Everyone on the porch looked toward the driveway as an old faded green pick-up lumbered toward the gravel patch where Maggie's car and truck were parked. She didn't recognize the man getting out of the truck.
The man stood tall in western boots, clean Levis, and a white dress shirt, with an ancient feed mill cap dipped low over his eyes.
Unable to make out his features clearly, Maggie rose to welcome the stranger.
As he rapped on the screen door, he said dryly, "Afternoon, Mrs. Anderson. It took a while for me and Mabel to figure out your directions." With those few words, Ed Harrington doffed his cap. A hint of a smile tugged at his mouth. His gray eyes remained cool and guarded.
Maggie's mouth fell wide open and her heart skipped a beat or two. He was standing there like an apparition. Was this really the malnourished man she'd last seen stumbling down a Des Moines sidewalk?
BLURB
During an oppressive Iowa summer of drought and farm foreclosures, widowed Maggie Anderson makes a bold decision: She'll merge her love of horses and her family's three hundred and twenty acres into a horse farm and try her hand at nearby Prairie Meadows Race Track, where racing purses have just been augmented by the recently added casino gambling.
Down on his luck after being falsely accused in a racing scandal and banned from training, former Arlington Race Track trainer Ed Harrington has skulked home to Des Moines to drown his sorrows and wait for the dust to clear. He's unprepared for the piercing robin's-egg-blue eyes of pint-sized Maggie Anderson, who finds him at a flophouse and offers him a job. Can he pull himself together and meet the challenge?
As the two forge a tumultuous working partnership, they soon discover someone is out to get Maggie's farm and will stop at almost nothing to force her off the land. Can they find and stop the culprit before someone is killed? Can they survive the far greater danger unleashed by the raw passion simmering just beneath the surface of their relationship?
"Heartfelt with mystery and hope…made me cry." Donna H., Amazon, Five Stars
BUY LINK
Print and E-Book

Click to travel to the other Sexy Saturday excerpts!