Welcome to another round of My Sexy Saturday, where authors offer seven words, sentences, or paragraphs from their work for your entertainment. Be sure to click on the graphic at the bottom of the page and visit the other participants.
It's almost release day! Cherry Tune-Up will be available at Amazon for $1.99 beginning Tuesday, December 10. There's still time to enter for one free download plus a coffee mug with our yummy cover, featuring Jimmy Thomas. Scroll to the bottom to enter!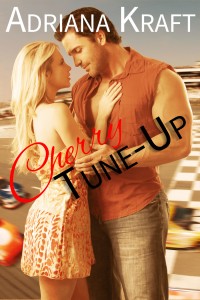 BLURB
Desperate for a crash course in lovemaking, Bobbi Jo Martin seeks out her childhood best friend. A successful contractor with NASCAR dreams, Jack Day has never forgotten her—but how will he protect his heart?  In a moment of sheer genius he decides to play the role of master…
WARNINGS: Explicit sex: M/F, F/F; Ménage F/F/M; sex toys; anal play; light BDSM
EXCERPT
"I won't hurt you," Jack said. "That, I promise. But, you will follow my instructions, or you'll find out how intertwined pain and pleasure can be."
"You're kidding!" Bobbi Jo's eyes widened with shock.
"Do I look like I'm kidding? What will it be?" Jack chuckled, taunting her. "Are you joining me in the classroom, or are you going to run back to your tight-assed banker?"
Bobbi Jo's hands rose to her reddening neck.
"Just talking about sex has your heart pumping strong, doesn't it?" Her slight shake of the head told him what he already knew.
"Damn, you're going to be an able student. I don't wait well, Bobbi Jo. Are you in or out? Your master is about to ring the bell. And I'll let you know when it's time for recess." He tilted his head.
Bobbi Jo parted her lips. "I'm in."
CONTESTS
Subscribe to my monthly newsletter (upper l.h. sidebar) and leave me a comment to be entered for this month's prize, a $10 gift certificate to Amazon or ARE.
Enter the Rafflecopter giveaway for one free download of Cherry Tune-Up, plus this coffee mug featuring our yummy Jimmy Thomas cover:
Click on the graphic below
to link to the other Sexy Saturday posts: