Welcome to the 169th week of My Sexy Saturday!

This week's theme is My Sexy Dreamer. Do you have dreams and fantasies? Of course you do – and so do we. We're excited that our heroine Carol is about to have one of her dreams come true, just in time for Christmas. Happily bi-sexual, she's fantasizing about a three-way with her husband and their sexy neighbor, Tara. Will her fantasies come true?
Today is release day for their story at Extasy Books, where there'll be a Stocking Stuffer short story every day from now until December 25.
It's Christmas Eve—
what gifts will Mack, Carol and Tara
unwrap together?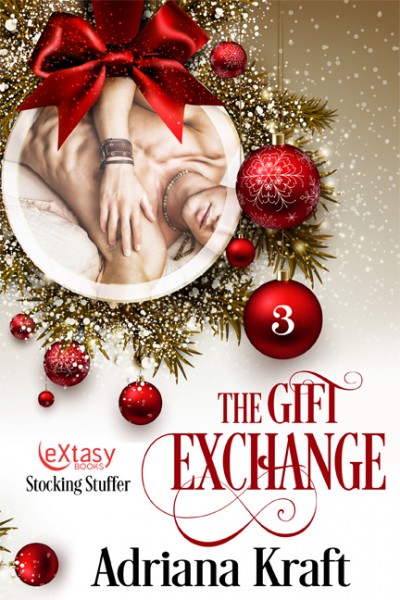 Mack and Carol are relaxing in their hot tub under the starry north woods sky a couple weeks before Christmas:
"Tara will be alone this year–it's been eight months since she broke up with her boyfriend," Carol said. "I think we should invite her for Christmas Eve. Are you okay with that? I know Christmas Eve is a special time for you. Well, for both of us."
"No, of course. We can share some of our Christmas Eve traditions with Tara. Maybe she has some, too."
"And if we get too sloshed, she can stay over."
"If we stay up until midnight to usher in Christmas like we usually do, the temperature is going to be well below zero. She can stay over if she wants. We'll need to be sure she has enough presents to unwrap. But…there is one thing." Mack gave Carol a quizzical look.
"What's that?" The reflection from the hot tub showed her naughty expression.
"Our Christmas morning playtime. Our Christmas morning fuck."
Carol giggled. "It's a tradition. Do you think maybe Tara might enjoy playing with us?"
"Together?" He knew he sounded dumb. This wasn't the first time his wife had dangled that possibility before him.
"Well, I doubt we'd need separate rooms. What do you think? Wouldn't Tara make a delightful Christmas gift?
He quickly decided he needed more information before answering that question. Was there a wrong answer?
BUY LINK


It's time to turn up the heat – eXtasy Books is releasing one sexy Stocking Stuffer Short Story every day from now through December 25!
Don't forget to check out all the other sexy posts from the rest of the My Sexy Saturday bloggers!