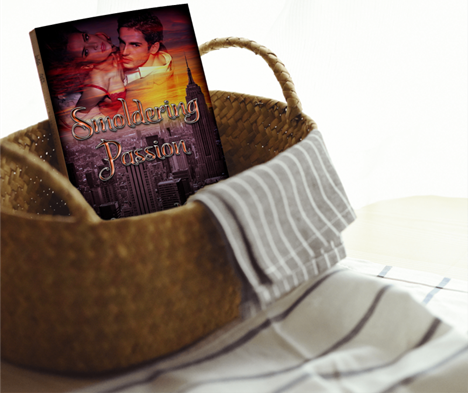 Welcome to the MFRW Steam Hop,
where the authors of Marketing for Romance Writers
entice you with steamy excerpts from their erotic romance stories.
Scroll to the end for more of this week's tempting excerpts
I'm so excited to announce the upcoming re-release of Smoldering Passion. Unavailable since 2014, the book has been thoroughly edited and revised and we're thrilled that Extasy Books will release it on April 7. Pre-Order information coming soon!
Here's our fabulous new cover, by Martine Jardine: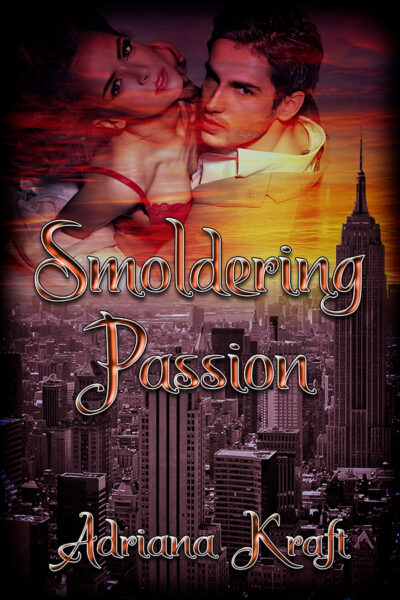 Book info
Smoldering Passion (Passion Series, Book 1)
By Adriana Kraft
Release Date: April 7, 2023
Length: 69,000 words
Tags: Erotic Romance, LGBTQ, Steamy, Menage, FM, FF, FFM, FMF, MFM
BLURB
Her passion smolders. Will it ignite?
When art student Melissa Hopkins finally unpacks the two boxes her Aunt Phoebe left for her and sees Phoebe's black and white photos, it's like opening Pandora's Box. A simple quest to find a new job morphs into an about face—not just in her art, but in her career and personal life. Short on funds now that her graduate stipend is ending, she applies to work where Aunt Phoebe once worked: a center for sexuality and sex studies.
Sworn off women after a disastrous relationship, Center Director Harry Gage ignores the danger signals and hires the striking young woman who reminds him of his former lover. Her air of innocence will captivate center viewers, so he's sure she'll be a hit on camera. What he's not prepared for is how she pierces his heart.
When the sparks flare up, is it love or just sex—and what must each of them risk to find out?
EXCERPT
Set-up: This is both Melissa's first on-camera experience, and her first sexual experience with a woman (even though they never touch each other)
Chewing on her lower lip Thursday afternoon, Melissa fixed her focus on Inez. Thankfully, Harry had come up with this idea for her maiden voyage on camera for the Center. She and Inez were assigned to test a couple new vibrators. They sat across from each other on Set 3 in front of the fake fireplace in easy chairs. That proved easier than if they'd been on the bed. The distance provided a sense of security.
This was only one step—well, maybe several—beyond modeling in the nude, something she'd often done in her art classes. She knew Harry sensed her nervousness and was working with her and Inez to make this as smooth an experience as possible.
"Remember," Harry said, calmly, "focus on Inez—forget the cameras. Melissa, you are to be Inez's mirror image. Whatever she does, you do. Okay?"
She nodded her agreement, not wanting to risk uttering a word.
"Good," he replied. "Go ahead, Inez. Let's put these gadgets through their paces."
"No problem." Inez winked at Melissa and parted the thin pink robe that had provided very little cover. Her dark brown nipples were already hard nubbins. She separated her thighs, displaying a thin dark line of curly hairs leading to a semi-hidden crevice.
Melissa's breathing stopped. She tried not to gawk.
Inez smiled easily and waited.
"Melissa," Harry prompted softly.
"Of course," she mumbled. She parted her own wrapper and seated herself securely on the chair. She appreciated the gleam in Inez's eyes.
"Splendid," Inez responded. "We're going to have so much fun together. I love your trim."
"Quiet, please," Harry said, "the tape is running. Speak with your eyes and bodies only."
Inez picked up the curved blue vibrator sitting on a stand next to her chair.
Melissa reached for the red one at her side.
Once the vibrators were humming, Inez slowly slid hers across her cheek and then down the side of her throat.
Melissa locked her focus on Inez and let the red vibrator energize her cheek and throat.
She'd never used a vibrator with anyone watching. This was indeed different. She couldn't tell what was vibrating most—the vibrator, or her loins in anticipation.
Inez teased a dark nipple with the tip of the blue vibrator.
Melissa held her vibrator between two fingers and brought its tip to bear on her pink nipple. She gasped and saw Inez smiling knowingly. She watched Inez slide the full length of the blue hummer across her flat belly. Without hesitating, Melissa did the same. Her hips flinched.
A movement out of the corner of her eye caught her attention. She flicked a glance to her left, where Harry was holding a camera. Co-Director Claire Johnson had come to stand by his side.
"Thought you didn't want to be here," Harry muttered, without lowering the camera.
"I changed my mind," Claire said. "Wanted to see how your protégé was coming along. I see I'm not too late."
And don't forget the rest of today's steamy excerpts!