Welcome to Weekend Writing Warriors, where writers share an 8 to 10 sentence snippet of their writing on Sunday.  Be sure to visit other participants at http://www.wewriwa.com/  and read and comment on their #8sunday posts.
Spread the word: Twitter hashtag #8sunday
Welcome to the world of horse racing! For the next few weeks we'll be featuring excerpts from Detour Ahead, Book Four in our Rider's Up Series. Each book can be read as a stand-alone, and all four books are always available FREE at KU.

Danger, suspense, stunning race horses,
courageous heroines, and the
complicated men who love them!
Have you ever run into a detour? A few summers back, from our safe perch inside the North Rim Lodge, we watched in wonder as a magnificent thunderstorm powered its way across the Grand Canyon. The view was spectacular.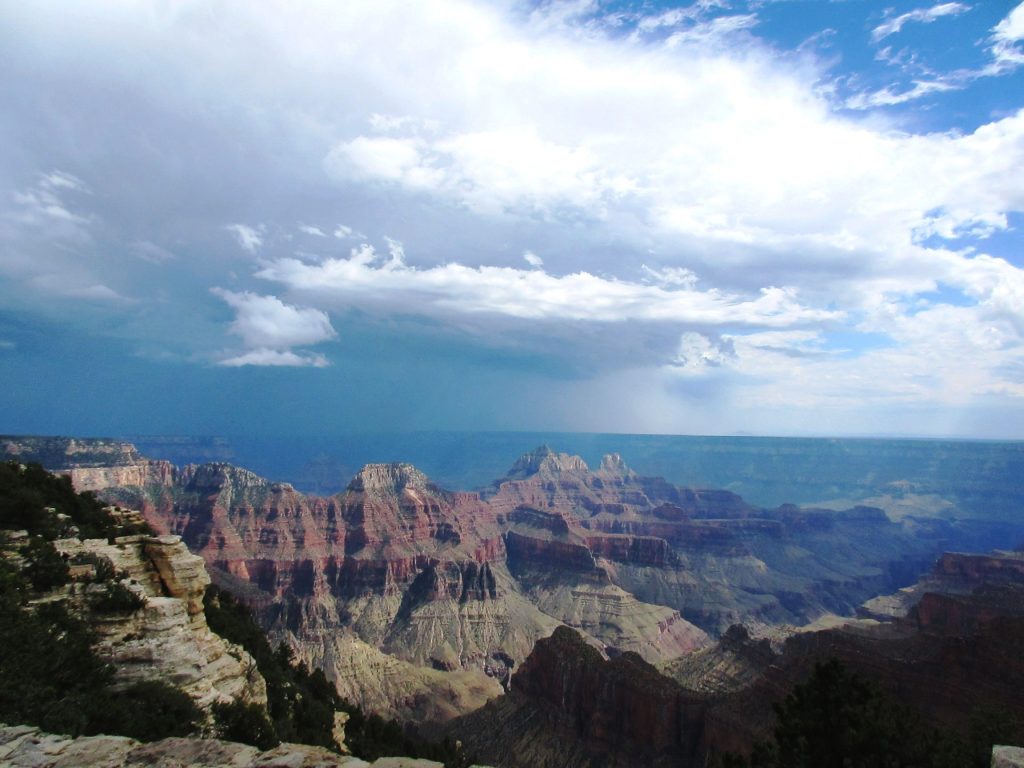 The next morning as we started out in our motor home, we were stopped by a deputy sheriff at the first junction and told the storm had caused a huge rock slide, closing the main route and forcing a hundred-mile detour. We thought about Traci as we picked our way slowly north and east to continue south.
Here's another snippet from Traci's detour…
EXCERPT
Traci took the right-hand turn. A small, paint-chipped sign read "Buteo Canyon Road." Another stated "Open Range." What did that mean?
Three miles farther the road climbed sharply. It twisted and wove its way through deep ravines and across a dried-up creek bed. A bright yellow sign proclaimed "Dip Subject to Flooding." Easing closer, she looked up and down the ravine as far as she could see and then sped across. Safe, for the moment, anyway.
BUY LINK
Always FREE to read at Kindle Unlimited
Available in print and e-book
http://www.amazon.com/dp/B00RPT6YJA/
BLURB
Hot-shot Chicago prosecuting attorney Traci Steele works tirelessly keeping rapists off the street to prevent other women from suffering the hell she's endured, so she resists her friends' insistence that she take a two month R&R in their California Live Oak condo—until they persuade her to help their rancher friend as a private investigator.
Though he runs the stables at Live Oak, well-muscled mustached wrangler Scott McCord much prefers working with the race horses he trains at his ranch, and he can't believe his old friends have sent a greenhorn female to help him with horse troubles.
The improbable dance between this mismatched pair barely fits in around the escalating suspense of whoever's after Scott's horses. Traci is as tenacious in her sleuthing as she is terrified about her inability to ever love a man. Can Scott succeed in gentling her – like he does his horses – before she flees in panic?
REVIEWS
Night Owl Reviews Top Pick This is a story about letting go of your past so you can move on to your future…Add into this touching story of recovery a mystery that will keep you guessing to the very end, and you've got a story you won't be able to put down. Angi
You Gotta Read Reviews Rich in romance and suspense, this book had me mesmerized from the first page…a sensational job of combining just the right amount of suspense with a sauciness that leaves you longing for more. Val
Amazon Riveting mystery and love story in one great book Donna H. A Great story that shows that love can heal anything!" Amy B.
~ o ~ o ~ o
Be sure to stop by the rest of the Weekend Writing Warriors for some great excerpts!