Welcome to MidWeek Tease, where authors share tempting snippets to tide you over till the weekend. A huge shout out to author Angelica Dawson for hosting our blog hop every week!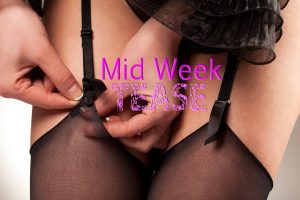 So much seduction – sometimes in A Woman for Zachary, it's difficult to discern who is seducing whom. In today's excerpt, we drop in on Josie and Meg, but who is the pursuer? They're at a cafe after rehearsal…
EXCERPT
Meg tingled as Josie's dark eyes snapped at her. The taller woman's long nose twitched and her broad mouth broke into a grin, suggesting that she enjoyed this stage of the game as much as Meg usually did. Still, Meg cautioned herself to tread carefully. She wasn't accustomed to playing the role of being seduced. "So how long have you known Zach?"
Josie's chin jerked up. Meg doubted the woman had been thinking about Zachary Cullen.
"Maybe ten years or so," Josie said smoothly, showing no evidence of discomfort. "He sought me out after coming to a performance I directed. He'd heard on the street that I was particularly good with young talent and wanted to know if I'd help a young woman he'd discovered in Nebraska, I think."
"So I'm not the first." Meg scowled, hoping that wasn't a look of sympathy crossing Josie's face. "I didn't expect I was," she quickly added.
Josie shook her head. Her long flowing dark hair flipped from side to side. "You're not the first, though you are only the third young girl he's referred to me over that period. So there haven't been hordes. Of course I don't keep track of his activities. There may have been others he hasn't brought to me, but I don't know of any."
"So what happens to these young women when Zach grows tired of them?" Meg's fingers curled around a napkin, and she didn't like the fact that she couldn't keep the acid from her voice. She thought she was a better actress than that.
"Don't get too upset with Zach. He doesn't hold anyone captive." Josie arched an eyebrow. "I'm sure you're free to leave whenever you want to."
"Of course I am." Meg didn't like Josie's maternal tone. "When I ask Zach to tie me up, he only uses scarves." Meg hid a smile when Josie's eyes rounded and the woman involuntarily wet her lips. Maybe she'd remember why they were sharing a drink. It wasn't for Josie to defend Zach.
Josie's mouth turned up in a smile. "I'm sure you play the captive role superbly."
It's New York! Broadway beckons, but Meg has more fun keeping an erotic triangle going with her current flame, Zach Cullen, and her drama coach, Josie Patrice.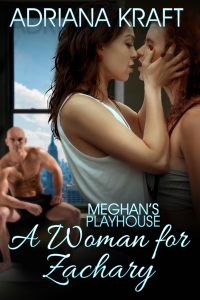 A Woman for Zachary
Meghan's Playhouse, Book Two
Erotic Romance Ménage
August 4, 2017
Four Flames:
Explicit Sex, MF, FF;
Ménage, FFM, FMF;
Sex toys
BLURB
Zachary Cullen has ignored Josette Patrice's overtures for years, but she agrees to take on his latest protégé-slash-arm-candy Meghan Keenan in her off-Broadway workshop theater. Though the girl has incredible talent, Josie would stake her reputation on that little thing being a switch-hitter, like herself, and she doesn't want Zach to be duped. Josie sets out to seduce Meg and expose her for what she is, but all bets are off when Meg turns the tables on Josie to hook her up with Zach.
BUY LINKS
~ o ~ o ~ o ~ o ~ o ~
Don't forget to stop by all the other fabulous Midweek teasers: