Welcome to MidWeek Tease, where authors share tempting snippets to tide you over till the weekend. A huge shout out to author Angelica Dawson for hosting our blog hop every week!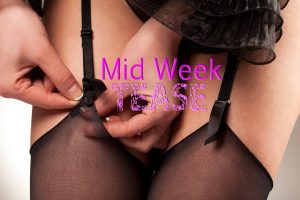 We're continuing our back-list love with another excerpt from Writing Skin, Book Two in the series The Diary. Sometimes even women can miss-read each other's cues…
EXCERPT
Luci worked the skirt down over Chai's hips and she stepped out of it. "You are a gorgeous woman," Luci murmured, toweling one leg and then the other. "I love your deep-copper skin tone."
She reached for the dark thong.
"Leave it," Chai said, grabbing her wrists. "I need to slow down."
Luci felt a wave of disappointment and embarrassment course through her body—how had she misread things so badly?
"Hey," Chai said, grabbing her by the chin. "I don't mean stop; I just mean let's slow down and enjoy the journey." Chai dipped her head and slanted her full lips across Luci's mouth.
BLURB
What would it be like to be romanced by not one but two potential partners, simultaneously? Luci Parker has finally achieved the career of her dreams as an erotica author – but the only romance in her life these days is in the books she writes. Long attracted to both men and women, Luci despairs of ever finding just one person to settle down with.
Owners of a South Side Chicago bookstore, Chai and Frank Ferguson eagerly devour Luci's books as fast as she can write them, and now they wonder if she might be the woman they've been looking for.
Frank is deeply in love with Chai but knows she'll never be complete without a woman to love as well. Can he match the passion of not one but two exquisite and complicated women at the same time? Will Luci even want him? And if Chai truly falls in love with Luci, will there be room for him?
All three characters in this intense erotic love story wrestle with the meaning of love, lust and commitment as they struggle to find themselves—and each other.
BUY LINKS
Writing Skin is available in print in the two-volume series, The Diary, or solo as an e-book:
Print Link                                             Ebook Link
Amazon Print                                  Amazon E-Book
~ o ~ o ~ o ~ o ~ o ~
Don't forget to stop by all the other fabulous Midweek teasers: