Welcome to Hump Day Hook! Click HERE if you're looking for the Spring is in the Air BlogHop.
Sometimes I think Vegas Gambler (Book Four) is my favorite in our Meghan's Playhouse series. Maybe it's because we've been staying in Las Vegas these last few weeks, or maybe it's because I love how the theme of gaming and gambling underlies the entire plot, including the relationships as they shift and change. Hope you like it!
Just when Meg thinks she'll heat up Tia and Tony's relationship, Tia turns the tables to hook Meg up with Tony—but the real winner is the Vegas Gambler, Jack Hawthorne.

Romance Junkies 4.5 blue ribbons
…an extremely sensual erotic romance.  
BLURB
Fresh with success from a recent stint in a musical on the Las Vegas Strip, Meghan Keenan takes some time off to play with her current flame, Jack Hawthorne, professional poker player. She's delighted to add her petite masseuse Tia Minh to the mix and even more thrilled when she learns Tia's relationship with her boyfriend Tony Sanders is on the skids. It's the perfect challenge! Tia has different ideas – she thinks Tony would be perfect for Meg, and she conspires to throw them together any way she can. Ever the gambler, Jack catches onto her game quickly and keeps the ruse going behind Meg's back. Who knew his heart was up for grabs?
EXCERPT
"Jesus," Jack grumbled, "she's tiny."
"Don't worry," Meg chuckled. "You'll fit. She's handled my strap-on easily enough. Let me help you."
Tia blinked her eyes open to see the back of Meg's head as she guided Jack's shaft to her throbbing mound. Tia couldn't contain a moan when the head of Jack's cock penetrated her opening.
Meg turned to beam a smile at her. "He's as good with his cock as he is with his tongue. Trust me."
"You okay?" Jack asked, holding steady as he knelt between her thighs.
She nodded. "Don't hold back on my account." She rotated her pelvis to emphasize her point.
"Damn," Jack said, looking down at their joining. "Here goes."
Tia wanted to cry. She doubted any man had ever been so careful with her. But did he have any idea that by being so slow he was torturing her? She swallowed hard as he inched inward until he was buried in her depths. She smiled at his surprise. Was it her capacity to take all of him? Or maybe it was the heat of her inner core.
Becoming quite alert, Tia slid a hand between Meg's thighs, parting them as she went. "Thanks for sharing him with me."
Be sure to catch all the
Hump Day Hook excerpts at this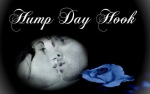 We'd love to hear what you think is going to happen next…