Coming to Extasy Books April 15! Here's another teaser to tempt you from Summer's End, Book Eleven in our Swinging Games series.
BLURB
The best summer ever has to end sometime. Jen and Brett Andrews have reveled in their erotic threesome with summer housemate Sarah Creston—but it's August, and she'll have to leave.
How do they react? For starters, they branch out to a new sizzling encounter with a Latino couple who've been flirting with them on the lifestyle website. Adding is so much better than subtraction.
Sarah wastes no time, either. Worried about Ryan after his heart attack, she arranges a private threesome with him and Donna to ease him back into the play scene, then makes her own moves to line up possible future playmates.
As a finale, Jen and Brett stage a house party to die for.
EXCERPT
Thursday morning, Sarah sat at the Andrews' kitchen table trying not to fidget. She glanced at Brett and Jen sipping their after breakfast coffee and winced. They'd had such lovely playtimes during the last few days and nights—she hoped what she was about to say wouldn't spoil everything. But she'd made her decision. She had to do this her way. She hoped her hosts would understand, especially Jen.
"You look quite pensive this morning," Jen said, peering over the rim of her coffee cup. "Did we overdo it last night?"
Sarah shook her head.
Jen grinned. "We did have you bent in a pretzel toward the end. You've become quite fond of double penetration." She paused briefly. "Maybe this afternoon or tonight, you and Brett can do that, with me as the beneficiary."
Brett cleared his throat, interrupting his wife's chatter. "So what's bothering you, Sarah? You're not usually this quiet. Is it about having to go back home in a few days, or is it more than that?"
Sarah heaved a sigh. "More. I'm worried about Ryan."
"What?" Jen asked. "I thought he was fine. I just called Donna while I was making breakfast. It sounded like Ryan has made a full recovery. Donna was joking about the party and how much Ryan is looking forward to it." Jen winked. "And to finally having some time with you."
"That's just it. I don't want to overdo it with him. He's just recovered from surgery. What if…"
"Oh, my." Jen covered her mouth. "I never thought about that. He has his doctor's approval to resume sexual activities, and Donna let me know they tested things out last night. He's good to go."
"But…I need to be sure." Sarah felt herself flush. "I don't want him to get overly excited and over exerted. He's been so looking forward to doing me all summer long. I don't want him to get too worked up. I'm not comfortable playing with him for the first time with everyone watching. We need to go very slowly. I need to be certain he's okay, or I'll never open up for him. And after all that's happened this summer, I don't want Ryan to think I don't want him."
Be sure to catch all the
Hump Day Hook excerpts at this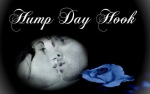 We'd love to hear what you think is going to happen next…