Welcome to Hump Day Hook, where authors tantalize you with brief excerpts every Wednesday! Please click HERE if you're looking for the Spring is in the Air BlogHop.
Meg's Folly
Meghan's Playhouse, Book Five
Our last four Hump Day Hooks have focused on the first four books in our Meghan's Playhouse series. In case you forgot, Meg Keenan is a sprite of a woman who takes on Aphrodite's role of bringing other couples together, up close and personal. As we got to know her through the series, we began to wonder if she'd ever have a happy ending of her own—and if so, just what it might look like!
We're not giving away any secrets today, but here's the blurb and an excerpt, with a little hint of an upcoming four-way ménage…
BLURB
When Meghan Keenan's old flame Josh Hendricks unexpectedly shows up at the Summer Shakespeare Festival where she has a leading role, Meg has a brilliant inspiration: he'll be perfect for Camila, the hot Latina who currently shares Meg's bed. If Meg's scheme works, she can continue to enjoy sexy escapades with both of them.
Josh has a different idea. He's come to the Festival with one goal in mind: to marry Meg. Will Camila buy into the plan and help him spark Meg's jealousy? Can Josh escape this tempting triangle unscathed? And if he does, can he claim his would-be bride before she flees in panic?
BUY LINKS
EXCERPT
My apologies for a longer-than-usual excerpt—since Meg's bisexual, this seemed like an appropriate excerpt, given the historic hearings taking place in the U.S. Supreme Court this week.
Yawning, Meg glanced at the living room clock. It was well past midnight, hardly a late night for theater folks, but she knew Josh must still be on Eastern Time. They'd dissected his play about every which way possible. With his long legs crossed at the ankles, he slouched in the easy chair sitting across from the couch where she and Camila sat.
"What are you working on now?" Camila asked. "Or are you one of those superstitious writers who won't talk about a work in progress?"
Meg knew Josh wouldn't hesitate to talk about current work. Josh reveled in carrying on about writing—his own or others. Meg squeezed Camila's fingers. She was pleased with how the girl responded to Josh's presence. For his part, Josh engaged easily with both of them. She'd noticed his arousal pressing against his trousers several times. It felt as if she and Josh hadn't been separated for so many months.
Josh smiled and shrugged. "I often bounce ideas off of people who appreciate the ins and outs of telling stories. I'm sort of between things right now. Of course, as you know, a writer has lots of plots floating at the same time. I'm considering a play that's been percolating the last several months about the struggles bisexuals confront, not quite fitting in any world except their own."
"That has a familiar personal ring," Camila admitted. "Straights and gays think I'm either just playing around or can't decide."
Meg's response was quick. "I haven't felt particularly at sea because of my sexual orientation."
Josh's grin split his face. "Why would you? You've created your own network of like minded people." Josh winked at Camila. "You must know that our Meg's favorite role is that of matchmaker."
"I've noticed." Camila nibbled on Meg's right ear. "She's already failed with me."
"Really?"
Meg glowered at Josh.
"Philip."
"That rather uneasy fellow I met at the theater?"
Camila arched an eyebrow at Meg. "I didn't see Philip tonight."
"He was there." Meg brushed a hand along Camila's thigh. She'd been inching her short skirt higher for the past twenty minutes. From Josh's look he must have a superior view of Camila's satin v-string and the outlines of the treasure it barely concealed. "I told him we'll be rather busy the next few days. He'll be gone most of the week. I'll take care of Philip. He's been a good friend this summer." Meg stuck her tongue out at Camila. "Who knows, if Josh sticks around long enough we may want a fourth."
Camila's eyes rounded as she shuddered. "Double the fun."
"Or trouble," Josh countered.
Be sure to catch all the
Hump Day Hook excerpts at this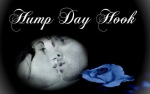 We'd love to hear what you think is going to happen next…