Don't read this book…
      …without either a partner or a bucket of toys close at hand. 
That's what the TwoLips reviewer said about Colors of the Night when she gave it five kisses, so we thought we'd share a little taste of the sizzle with you for today's Hump Day Hook:
A love triangle with a dazzling immortal goddess – will it ignite or extinguish the dying embers of a contemporary couple's love?
EXCERPT
The three of them had climbed the wrought iron stairs six flights to the very top of the cloister tower.  Its stone ceiling protected them from the elements.  The small open windows artfully carved in the stone walls provided access to spectacular views of the surrounding gardens.  Jamie could see beds of orange, pink, red, pale blue, and green.  Flowers and shrubs of more varieties than she could name dotted the meandering sidewalks.  Here and there she saw splendid tall trees – pines and cedars, for sure, and perhaps maple and oak.
Jamie inhaled deeply.  Would she ever get enough of the refreshing spirit permeating this space?
"I see that you connect with this place, Jamie," Aria said, "That is good.  These stones have witnessed much and will be enlivened by your sincerity and by your odyssey through the sexual delights."
Jamie turned to stare at the goddess of love.  "Here?" she mouthed.
"This is perfect.  Hardly anyone is around, and you already have a special place in your heart for these stones.  I cannot imagine that we will find a better location in which to take a small risk in sharing our love."
"But what if somebody comes?"
Aria grinned demurely.  "No doubt, somebody will come."
Be sure to catch all the
Hump Day Hook excerpts at this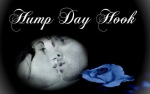 We'd love to hear what you think is going to happen next…