Can the immortal love goddess Aria heal not one but two traumatized hearts—and if she succeeds, will those hearts open to each other? 
Aria Returns will be released at Extasy Books May 1! Have you ever written a character who gets under your skin and practically haunts you, begging you to come back? Hubs and I feel like we've been living with the love goddess Aria for years (we wish!). Her first book, Colors of the Night, was our first published novel, in 2006, and met with stellar reviews, including five stars at TwoLips and a top pick at Night Owl Reviews. That e-pub house went belly up the following year, and we were thrilled when Extasy agreed to re-release the book after we got our rights back, in 2009.
It's taken us a while to cave in to Aria, but she convinced us Amber Heath and Jeff Conway have a story worth telling. Here's cover, blurb and an excerpt for you.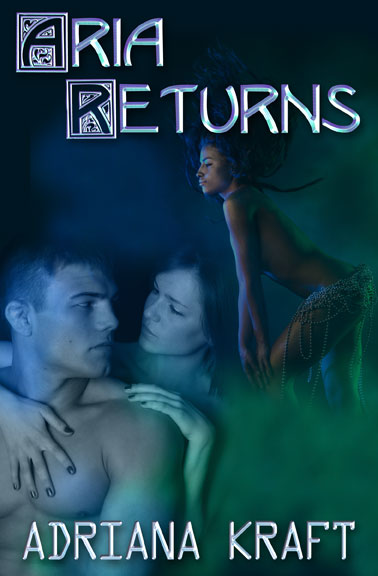 BLURB
Traumatized by the boyfriend from hell, Amber Heath makes a desperate plea for help—and is shocked when the immortal love goddess Aria materializes and whisks her away to a nineteenth century Carnivale.
Jeff Conway is still reeling from his fiancé's betrayal and not about to risk his heart. But he's more than willing to play with the spunky sprite Aria brings to meet him at Carnivale.
Sometimes watching, sometimes joining in, and always coaching, Aria launches Amber and Jeff on an erotic journey back to health and playfulness. But even the love goddess can't force them to love each other.
EXCERPT
"You want me to go away with you, like Jamie and Ryan did."
"I'm offering you that opportunity. I believe a change of environment and time may prove very healthy for you, but only you can choose."
"What about Frank?"
"For now, he won't even know you're gone. Let me explain, little one. If you agree to travel with me to another time and reality, there is no comparable time lapse in this time." She arched an eyebrow. "Besides, I thought your boyfriend wasn't coming back tonight. He's saving you for breakfast."
"Fat chance of that happening." Amber fought the bile rising in her throat at the thought of where Frank might be at the moment. She sat up straighter. "How long do I have to decide?"
Aria shrugged a shoulder. "Until your boyfriend gets back, I suppose."
"You don't call him by name."
"He doesn't deserve to be called by name."
Amber winced.
"All the decisions are yours, Amber. But if you ask me a question, I will not lie to you." Aria squeezed Amber's knee. "And if you're wondering if I'm here to help you and your boyfriend like I did with your aunt and uncle, let me be very clear. I am not. I only help people who want to change, or at least have some hope of changing. Your current boyfriend is beyond hope. If you want me to help you fix things up with him, I will leave right now. I'd never consider letting vermin like that touch me."
"I see." Dejected, Amber studied her toes. "But is that the same as making a decision for me—rejecting Frank?"
Aria shook her head. "If you decide you want to travel with me for awhile to experience new possibilities, and when we're finished you still want to come back to this man, then that is your choice. I won't and can't stop that from happening."
Be sure to catch all the
Hump Day Hook excerpts at this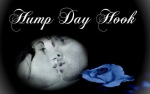 We'd love to hear what you think is going to happen next…