We missed a couple Wednesdays with computer problems – all fixed now and glad to be back! We're following the adventures of Meghan Keenan, heroine of our five book series Meghan's Playhouse. Here's blurb and an excerpt for Book Two: A Woman for Zachary.
It's New York! Broadway beckons, but Meg has more fun keeping an erotic triangle going with her current flame, Zach Cullen, and her drama coach, Josie Patrice.
BLURB
Zachary Cullen has ignored Josette Patrice's overtures for years, but she agrees to take on his latest protégé-slash-arm-candy Meghan Keenan in her off-Broadway workshop theater. The girl has incredible talent, but Josie would stake her reputation on that little thing being a switch-hitter, like herself, and she doesn't want Zach to be duped. Josie sets out to seduce Meg and expose her for what she is, but all bets are off when Meg turns the tables on Josie by hooking her up with Zach.
 EXCERPT
"I thought after we've recovered from the meal we might be able to put our heads together to come up with a dessert idea or two," Josie said.
Meg's eyes sparkled with affirmation. "That might be best of all." Meg flashed an eyebrow. "You enjoy teasing, don't you?"
Feeling rather smug and pleased, Josie nodded at her young guest. "Let's say I like to choreograph. And a little teasing can be fun, don't you think?"
"Umm," Meg shifted lightly from foot to foot, "but I'm usually the one who likes to tease."
"But you're in my apartment." Josie reached out to trace Meg's jaw line with a finger.
Meg didn't flinch. Instead she turned her head until she could wet Josie's finger with her lips.
Be sure to catch all the
Hump Day Hook excerpts at this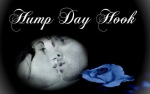 We'd love to hear what you think is going to happen next…