What do you wear to a clothing optional resort? You'd be surprised…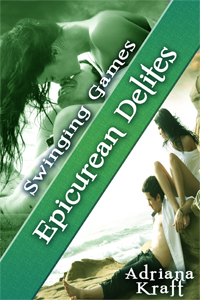 Swingers Bret and Jen Andrews are getting ready for a decadent week at the tropical swing lifestyle paradise, Epicurean Delites. They've just been shopping, and now they're modeling Jen's purchases for their best friends.
Epicurean Delites
Swinging Games, Book 13
Four Flames: Multiple partners, ménage, explicit sex f/m, f/f/m, f/m/f, four-way, toys, anal sex, light bdsm
EXCERPT
In a matter of minutes, Jen reappeared in what first looked like a black long evening gown. Then she turned slowly around. The left side had a slit to her waist, making it clear she was naked underneath. Brett wasn't sure of the material, but the top was see-through. He wet his lips, watching his wife's nipples trying to find their way out through the sheer material.
"This is for the Saturday night theme night, Black on White," Jen announced, spinning slowly about once more. "As you can see, I am in black. Brett will wear a white sport coat and black pants."
"You guys," Ryan said with a trace of awe in his voice, "are going to be the talk of the ball."
"No doubt," Donna added. "And there won't be any difficulty getting you out of that dress."
"How am I going to be able to dance with you wearing that?" Brett said. "I'm going to have a boner that will embarrass both of us."
"Not me," Jen said, grinning broadly. "The question is, together will we attract some players?"
BLURB
Palm trees swaying in the breeze, curtained beds beside the swimming pool, a floating bar—Jen and Brett can hardly believe the decadence they get to share for a week with Carl, Alice, and Sarah at the swing lifestyle resort, Epicurean Delites. Sometimes life is too short.
REVIEWS
Goodreads, 5 stars: hot and erotic with m/m, m/m/f, f/f, m/f/m/f and m/f couplings. What I liked best though was that these couples were older couples. Sheila G
Amazon, 5 stars: An Incredible place. Whew, what a fun and hot story! Well written and incredibly erotic. Tracey P.
BUY LINK
http://www.amazon.com//dp/B00SKKWXSE/
CLICK ON THE LINKS TO TRAVEL TO OTHER HOP PARTICIPANTS!