Welcome to Book Hooks, a Wednesday offering by members of Marketing For Romance Writers to share a little taste of our work and entice you into wanting more! Click on the links at the end to travel to other Book Hook posts, and enjoy!
Just released at Exatsy Books: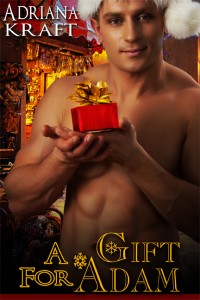 A Gift for Adam
Sensible Evie, devilish Adam and a Christmas package mix-up in a hilarious holiday romp!
As soon as Evie had told Adam she wasn't inviting him in, he'd slid across the seat until his hip settled against hers. His male scent teased her nostrils. He held her hand, waiting for her answer. The soft, dim light from the dashboard cast them in dreamy green and red colors.
"I doubt a kiss will make me jump out of my skin," she said lightly.
"We'll see about that," he countered, slanting his lips across hers.
She breathed through her nose as he seemed to swallow the air from her lungs. A moan escaped her lips. It wasn't a harsh, demanding kiss—not at all like what she'd expected. It was a soft kiss. A gentle kiss. A coaxing kiss that made her want to respond in kind, and she did.
BUY LINK: Extasy Books
BLURB
Home and Garden assistant manager Evie Strand has painstakingly embroidered a set of seven thongs as a gag gift for her best friend—only she brought the wrong box to the store Christmas party, and now Adam Grant from Automotive is holding them up for everyone to see: Kiss my…, Tight Fit—could things get any worse? Adam may seem like a total rake, but he can tell Evie's deeply embarrassed and he resolves to make it up to her. Who knew where a simple dinner date would lead?
Click on the links below to travel to other Hop participants!