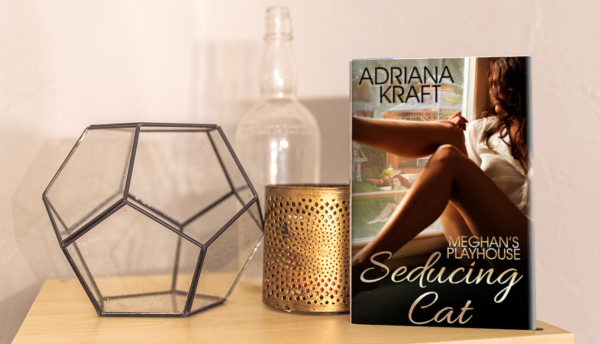 What could college English Professor Caitlin Shanahan
ever have in common with the brash carpenter Kurt Davis?
The sexy sprite Meghan Keenan, that's what.
Welcome to MFRW Hooks, where the authors of Marketing for Romance Writers share snippets from their stories to entice you into wanting more. Be sure to click on the links at the end to travel!
One last week with Seducing Cat before I turn to my upcoming release.
So far the hooks have all come from the opening scene, where Caitlin (Cat) is surreptitiously spying on her young renter Meg as she sunbathes nude on the lawn below. Before we leave this book, here's a scene from a little later, in Kurt's point of view.
EXCERPT
Smiling with pride, Kurt stood back, admiring his handiwork. The Mistress of the Mansion had wanted a distinctive gazebo, not a discount special. Well, he'd certainly provided her with that.
He glanced up toward her office window. He'd swear she'd been sitting behind the curtains watching buck-naked Meg fondling his cock through his jeans. Maybe he shouldn't have stopped Meg. How far would she have gone? He could never tell—she was as unpredictable as the wind currents on Lake Michigan. Meg fit his image of the Irish siren, dancing to a beat only she could hear.
On the other hand, Madam Caitlin Shanahan rarely surprised him. Shanahan's Irish blood probably never overheated. What would she be like, if she ever did cut loose?
He shrugged. No sense letting his imagination get away from him. If she ever did display a free spirit, it wouldn't be around him.
That suited him fine. He didn't have time for uppity, serious women. He knew his place in life. He'd never been handed anything on a silver platter, and he didn't expect that to change anytime soon.
Too bad Shanahan had beat him to this house. The Mulberry house had always been one of his favorites. He'd hoped to be in a position to buy it one day. That day had still been several years off when he'd heard the English professor had bought it. What the hell did a single woman want with a big old house? Not that he had a passel of kids to fill up the place, either.
BLURB
Levelheaded English Professor Caitlin Shanahan has finally earned tenure and purchased the century-old two-story house of her dreams in the college town of Burntside, Wisconsin—at thirty-four, she'd better face facts: her future is teaching college and writing plays, not falling in love. So why is she so drawn to foxy little hometown actress Meghan Keenan, who's rented her upstairs apartment, or worse, to the girl's gorgeous hunk of a lover Kurt Davis, a carpenter who's never even been to college?
Twenty-year-old Meg has a plan. First she'll seduce the reluctant professor, then she'll share her sexual delights with both Cat and her brawny carpenter, and when she's successfully brought them together, she can make her escape and explore what's beyond the only town she's ever lived in.
Kurt can't stand the up-tight professor who's hired him to build a gazebo and refurbish her old house—the house he wanted for himself. Even if Meg's scheme succeeds, he knows Caitlin would never look at him twice. No need to go there in his fantasies…
BOOK INFORMATION
Seducing Cat
Series: Meghan's Playhouse, Book 1
Length: 28,000 words
Genres: Erotic Romance, LGBTQ, Menage
Pairings: FF, FM, FFM
BUY LINKS
Universal Buy LInk
https://books2read.com/u/mgPjn6
Click on the links to travel to the rest of today's hooks: