Welcome to Saturday Spankings, where we get to share a little naughtiness from The Reunion, always free to read at Kindle Unlimited.
Be sure to travel to the other spankers for your dose of Saturday hotness – the list is at the end of this post.
It's her 20th high school reunion — or rather, the morning after, and Sarah has just awakened to find bad boy Adam Granger in her bed. Last week he woke up – and said he had a plane to catch.
EXCERPT
Adam reached for his clothes.
Without embarrassment, Sarah threw back the sheet, exposing her nakedness.
He eyed her with suspicion. His hardening cock thrilled her.
She held his stare, scrambled off the bed and knelt in front of him. Eagerly, she worked his penis with both hands until it was fully aroused. She beamed Adam a smile; he gave her a baleful look but made no move to dislodge her. She rubbed his cock's soft crown under her thumb and smiled when it twitched. Quickly, she popped him into her mouth. Adam's low moans made her smile. She took him all the way in until her lips touched the hairs at the base of his shaft.
It was good having a cock in her mouth again. She bobbed up and down his length, varying her sucking motion according to his reaction. How long had it been—three years? Maybe longer.
She hefted and fondled his balls gently. Giving head was a skill she'd perfected in high school and college. That art form had allowed her to protect her virginity while joyfully pursuing her sexual curiosity.
And she'd wanted to wrap her lips around this particular cock since she was sixteen.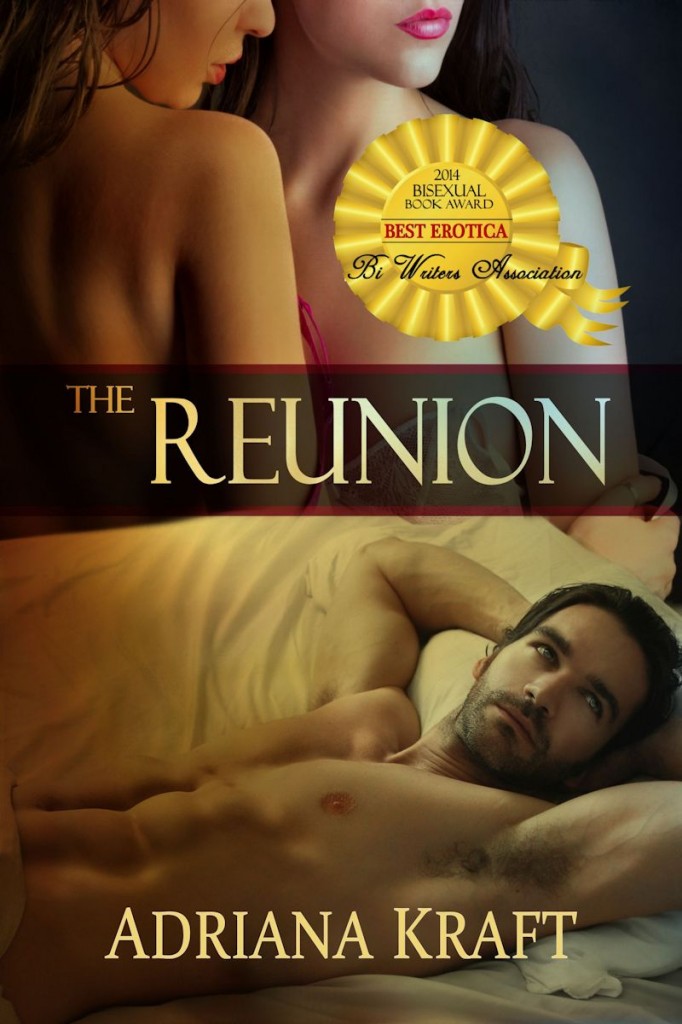 A dark and brooding bad boy, his petite Latina lover, and his unattainable former high school crush ~ a sizzling, combustible threesome.
BLURB
Dark and brooding, Adam Granger was always the bad boy out of reach—but now he's in Sarah Atkinson's bed, the morning after their twentieth high school reunion. When Adam beats a retreat to his Pacific Palisades estate, former good girl Sarah throws caution to the wind and pursues him.
Petite copper-skinned Maria Ramirez greets Sarah at Adam's front door. The former exotic dancer doesn't challenge Sarah's assumption she's the maid—how long will it take the dark-haired beauty to figure out Maria is Adam's live-in lover? Better yet, how long before Maria can entice her into their bed?
Determined not to rock his hard-won lifestyle, Adam resolves to push Sarah past her sexual limits so she'll leave. When she stays, he watches helplessly as the two women fall in love with each other. Will they shut him out? And, if they let him in, what must he sacrifice?
Click below to travel to the other Saturday Spankings posts!