Welcome to Book Hooks, a Wednesday offering by members of Marketing For Romance Writers to share a little taste of our work and entice you into wanting more! Click on the links at the end to travel to other Book Hook posts, and enjoy!
The Breeder's Cup is less than two weeks away – do you even know what it is? Perhaps you've heard of The Kentucky Derby, or The Triple Crown, premier thoroughbred stakes races. The Breeders cup is the pinnacle of U.S. thoroughbred racing, so we thought it was time to focus on our romantic suspense horse racing series, Riders Up. Here is the blurb and seven paragraphs from Book One: Cassie's Hope.
BLURB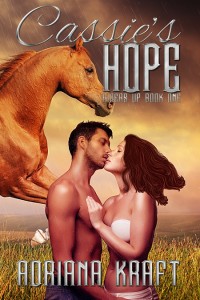 What happens when a fiercely loyal widowed half-Ute cowboy meets a fiery redhead with an Irish temper to match? Cassidy O'Hanlon – Cassie, to her friends – has set aside her Chicago career for six months to train racehorses for her dad after his stroke.
Furious the interloper has shipped in a ringer from the Chicago circuit to his Wyoming turf, Rancher/trainer Clint Travers sets out to put her in her place. Sparks fly immediately, but after their rocky start, the two quickly forge a passionate relationship, and he follows her to Chicago.
When it becomes clear someone is drugging Cassie's horse, Clint sets out to solve the mystery, but storms off in a cloud of wounded pride when suspicions turn to him.
Can love trump pride?
EXCERPT
Clint eased into his truck to head toward his motel. He would be eating alone again and then going over pedigrees or reading a novel. There were those connected with the track who partied hard every night. He wasn't one of them. Apparently neither was the red-head.
What would she have done if he'd invited her to dinner? He pressed his lips together tightly. No doubt she would have given him a tongue lashing. Damn, she was a hard woman to get close to.
She had piqued his curiosity. It certainly was unusual to see a woman haul a horse halfway across the country to race. And a damn pretty woman at that. She had to have a lot of guts. He'd give her that.
He was looking forward to the big race. And he was looking forward to seeing how the big city tigress would handle victory or defeat.
He turned his truck toward Evanston. What would she do if he showed up at the café next to her motel around dinner time? It hadn't been difficult to obtain that information from a secretary in the track office; they needed to know where folks stayed in town in case there was an emergency at the track.
He'd stay away from her, though he liked the way she blushed every time she got her dander up. Which seemed quite often.
Would she have as much fire in bed?
BUY LINKS
      KINDLE 

      PRINT      

REVIEWS
Five Stars at Goodreads: "An emotional roller-coaster, with twists and turns you never see coming! …I feel I know them, I took their journey with them. I felt their pain, their sadness, their struggles, and most of all their love. And that is the mark of a truly good book." Faith
Five Stars at Amazon: "I have another favorite book for my shelf! … I love this book!!!! I laughed, cried, got angry and even said a few choice words while reading it, but to me that's great writing." Dorothy C
Click on the list below to travel to other authors in the hop!