omg would you look at this cover we just got from Dawné Dominique of DusktilDawn Designs – we are beyond excited and can hardly wait for this book to come out, scheduled for September 15.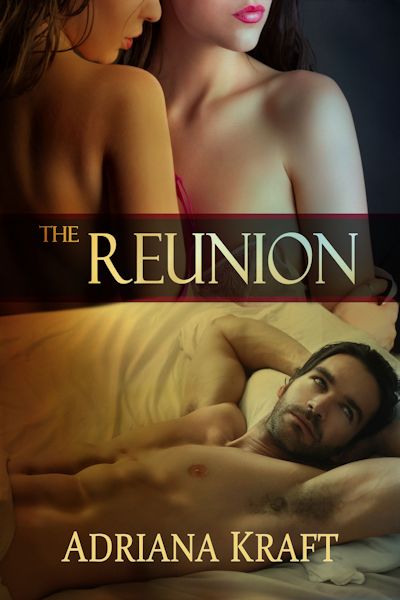 We're madly finishing final edits so we can get ARCs out to reviewers – let us know if you'd like a review copy (use the link in the r.h. sidebar to send us an email).
Watch this space for release information and free day announcement! We'll be featuring this book at The Romance Studio Tenth Anniversary Celebration beginning September 15, so you know you'll have a free download opportunity!
Here's the blurb and an excerpt:
BLURB
Dark and brooding, Adam Granger was always the bad boy out of reach—but now he's in Sarah Atkinson's bed, the morning after their twentieth high school reunion. When Adam beats a retreat to his Pacific Palisades estate, former good girl Sarah throws caution to the wind and pursues him.
Petite copper-skinned Maria Ramirez greets Sarah at Adam's front door. The former exotic dancer doesn't challenge Sarah's assumption she's the maid—how long will it take the tall dark-haired beauty to figure out Maria is Adam's live-in lover? Better yet, how long before Maria can entice her into their bed?
Determined not to rock his hard-won lifestyle, Adam resolves to push Sarah past her sexual limits so she'll leave. When she stays, he watches helplessly as the two women fall in love with each other. Will they shut him out? And, if they let him in, what must he sacrifice?
EXCERPT
On her back with her hands extended over her head, her raised butt resting on a cushion and her legs splayed wide, Sarah eyed Adam with what she hoped was sufficient aloofness. He hadn't tied her to the bed, but he might as well have. He'd told her in no uncertain terms not to budge. If nothing else, his glare kept her riveted in place.
Thankfully, Maria knelt by her side with a reassuring smile. Yet even she had an edge about her that seemed different. Maria's flared nostrils and elongated nipples embodied sexual excitement. She must know what Adam intended.
But like her, Maria awaited Adam's next command. He was in charge of choreographing what was going to pass for lovemaking. Sarah wasn't in charge, and neither was Maria.
Adam could be mistaken for a Greek god kneeling between her legs. His chest and corded thighs glistened with a sheen of oil. His eyes bore into her as if capable of reading her mind. Her heart skipped several beats as she watched him squirt oil along the full length of his cock. He worked both hands along the length of his shaft, spreading the oil thoroughly. She could hear the squeak of the oil against his hard flesh. Her mouth watered at the sight of the purplish crown peeking out of his fist.
"See something you want?" Adam's grin made it clear he knew her response.
"Yes," she replied, trying to sound as meek as possible.
"Where?"
"Anywhere."
"How?"
"How?" She frowned at his fingers skimming his cock. "Not that way. Come in me," she pled. "Now."
Adam gave Maria a caustic smile. "Haven't you taught her better than this? She still thinks she can control the game." He glared back at Sarah. "You don't get to decide this time. I will do what I want to you and with you. Right?"
Sarah smacked her lips, resisting looking at Maria for help. She girded herself for what was to come. She knew she'd brought this on herself. She'd teased him, taunted him, and mocked him. She'd wanted to crack his exterior. Now she wasn't so sure she wanted to peer into his interior world. She did her best not to outwardly tremble. "Yes. Do what you will." The strength of her voice surprised even her.