What do these four items have in common?
California Chrome
The Kentucky Derby
Los Alamitos
Adriana Kraft
It's a bit of a stretch, but stick with me here: California Chrome is far and away the favorite for the running of this year's Kentucky Derby May 3. He'll try to be the first Cal-bred horse to win the Derby, and where does he train? Not at Los Angeles' premier thoroughbred track Santa Anita, but at mid-level Los Alamitos, which runs both thoroughbreds and quarter horses.
The link to Adriana Kraft? There are two, actually. We're huge racing fans. We've been to the Kentucky Derby twice, the Belmont Stakes once, and three L.A. area tracks: Hollywood Park (now closed), Santa Anita, and Los Alamitos. But here's the kicker – we once owned a thoroughbred mare who raced and won at – guess where – Los Alamitos! Here's a photo of Fali Kay crossing the finish line for her win several years ago.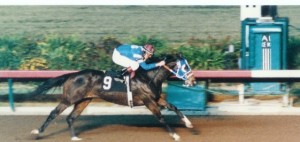 The characters in our upcoming release Heat Wave aren't handling Kentucky Derby contenders – yet. Maggie Anderson is just trying to establish a solid race horse stable and breeding program so she can succeed at her local Iowa track, Prairie Meadows. But the trainer she's found to help her get her start is a Derby quality trainer down on his luck, so who knows where the future might take them?
Here's the cover, blurb and an excerpt when they run their first race at Prairie Meadows, the (fictional, of course) Inaugural Stakes.
Heat Wave, Book Two in our Riders Up series, will be available at Amazon April 30.
FREE BOOK
Book One, Cassie's Hope, is FREE at Amazon today through Kentucky Derby day, May 3, at this link: http://www.amazon.com/ebook/dp/B00GDWTUGY/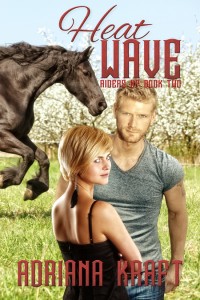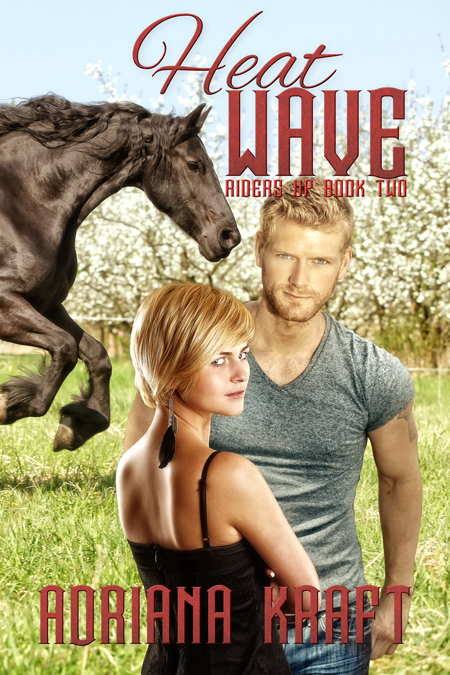 BLURB
During an oppressive Iowa summer of drought and farm foreclosures, widowed Maggie Anderson makes a bold decision: She'll merge her love of horses and her family's three hundred and twenty acres into a horse farm and try her hand at nearby Prairie Meadows Race Track, where racing purses have just been augmented by the recently added casino gambling.
Down on his luck after being falsely accused in a racing scandal and banned from training, former Arlington Race Track trainer Ed Harrington has slunk home to Des Moines to drown his sorrows and wait for the dust to clear. He's unprepared for the piercing robin's-egg-blue eyes of pint-sized Maggie Anderson, who finds him at a flophouse and offers him a job. Can he pull himself together and meet the challenge?
As the two forge a tumultuous working partnership, they soon discover someone is out to get Maggie's farm and will stop at almost nothing to force her off the land. Can they find and stop the culprit before someone is killed? Can they survive the far greater danger unleashed by the raw passion simmering just beneath the surface of their relationship?
EXCERPT
Maggie stared so hard at the starting gate her eyes hurt. At last the gate sprang open and the horses were racing. She was surprised at how quickly Capote's Dream raced to the front of the pack. Front running horses had won nearly every race that day. Crossing her fingers, she urged her horse on. He entered the backstretch four lengths in front. This was a critical juncture in the race. Would he maintain his speed around the turn? Or would the closers pass him by?
Maggie stood and screamed encouragement along with her kids and Cassie. Not able to see around the burly man in front of her, Maggie stood on her seat in time to see the finish.
No one would catch Capote's Dream this day. He continued to stretch his lead, crossing the finish line six lengths in front of his nearest competitor. Maggie's ears went temporarily deaf from her children's screams and her own. She hugged herself and then her kids. This couldn't be happening. But it was. It most definitely was.
"Hurry," Cassie shouted. "We have to get to the winner's circle. Follow me."
Cassie led them to the winners circle. After their picture was taken with Dream, Carolyn protectively carried the yellow and blue Inaugural Stakes blanket in her arms. Johnny couldn't stop jumping up and down. And Maggie felt like she could spend a week in bed without ever waking up.