Every time I read a story from Lark Westerly, I want to go live in the wonderful world she has invented. I'm thrilled to be hosting her today on the blog, with three brand new Stocking Stuffers from Extasy Books. I expect they'll be just as delightful!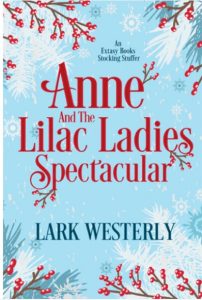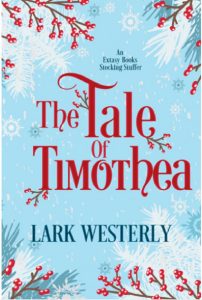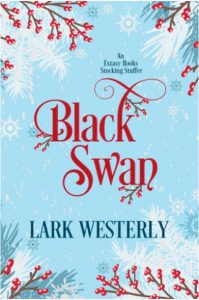 A word from Lark Westerly:
I love writing Christmas stocking stuffers. These long short stories, or maybe novelettes, are such fun because they hold a full story with some warm feel-good situations, peculiar challenges, and lots of Christmassy detail. Most of my stories begin with a situation, and since they all take place in a familiar (to me and my readers) world, they can branch off from bit-part roles in other books while standing alone. In this year's batch of holiday fun, Anne does battle with a food critic in defence of the Lilac Ladies club, Odette runs away from the traditional Yule ball with a man who doesn't want to be there either, and Timothea, who has been waiting for her true love's return for over a decade, wonders if he'll ever arrive.
About the Stories
Anne and the Lilac Ladies Spectacular. Anne Hathaway, who is not married to William Shakespeare, is an old-fashioned girl. As her house mother from the Mother Mary Christmas Children's Home remarks, "Our Ann should have been born seventy years ago. She'd have flourished." Now living in the country town of Delmsford, Anne has found her tribe among the Lilac Ladies, a local service organisation. Unfortunately, the Ladies are all decades older than Anne and their club is dying. Anne's efforts to help are pushed off-course by Rafferty Kettle, a food critic, whose review of their catering could bring them down. The Christmas Spectacular is their spirited comeback. The Lilac Ladies and Raff appeared briefly in another of my books; Performing Pippin Pearmain, but this is Anne's story.
The Tale of Timothea. Years ago, Timothea Skipton climbed the Grandpapa Yule tree on Christmas Eve. This act of valour was supposed to let her see her own true-love-to-be. While stuck at the top of the tree and awaiting rescue, Timothea sang a Christmas carol with a wandering fiddler. He was obviously the one for her, but it was years before they were brought together again on another Christmas Eve by Mihangel's very respectable brother, Dai.
Black Swan. Odette Cygne is the youngest daughter of Cygne Manor. Her three tall, beautiful siblings are married with children, but Odette, dark-haired and buxom, is facing yet another Yule ball of dancing with spare gentlemen. She'd rather be somewhere else. So would Godfrey de Courcy, whose sister has dragged him to the Yule ball to find a bride. Odette and Godfrey run away together to the Yule grove where they complete an ancient ritual and celebrate Christmas Eve in their own fashion. Godfrey appeared briefly in Queen of the May. Timothea Skipton, Odette's cousin, appeared in a small part in Under the Christmas Tree.
BLURBS
Anne and the Lilac Ladies Spectacular
Anne Hathaway had found her spiritual home with the Lilac Ladies of Delmsford, worthy women with saucepans, ladles and looms. Now the Ladies were under threat, but how could Rafferty Kettle be an enemy when he understood the importance of apostrophes?
BUY LINK https://www.extasybooks.com/Anne-and-the-Lilac-Ladies-Spectacular
The Tale of Timothea
One Christmas Eve, Timothea sang while her true-love-to-be played his fiddle. She gave him her name, and he called her my angel. That's what she thought he said. It was hard to say, considering where they were. After that, of course, she didn't see him again for a very long time.
BUY LINK https://www.extasybooks.com/The-Tale-Of-Timothea
Black Swan
Just before the traditional Yule ball at Cygne Manor, Odette's mother gave her an heirloom necklace. Her siblings had important news, but Odette had other things on her mind, including a man who didn't want to be at the ball any more than she did.
BUY LINK https://www.extasybooks.com/Black-Swan
EXCERPT
From Black Swan
Down the moonpath a horse was galloping. His hooves made no sound, but Odette heard the huffs of his breath.
"Grilled trout on a wheelbarrow!" she exclaimed.
Godfrey stopped whistling to laugh. "Trust you to say that—but he's coming now."
Odette felt her eyes trying to bug. "What is that?"
"That is Fils de Lune, Odette. My horse."
"Your horse. Your horse." Of course it was.  And Master Godfrey de Courcy was no more a typical courtfolk man than she was a typical daughter of Cygne Manor. He looked like one, but he just wasn't.
The horse closed the distance rapidly, giving a twisting buck in the air before landing his forehooves on the grass.
His hind hooves followed neatly. He pranced, swished his tail, tossed his mane, and snorted.
Odette gazed, entranced. He was so deep a black that he gleamed almost silver in the moonlight. His eyes shone an eerie blue.
"You said he was a piebald," she accused.
"He is." Godfrey reached out his free hand and the horse switched to face him, thrusting his muzzle into the man's palm. "I haven't forgotten your treat, mon ami," he said.
Odette smelled gingerbread.
ABOUT THE AUTHOR
Lark Westerly loves writing series where characters weave in and out of one another's lives. She thrives on complication, rules, moonlight, trees, traditions and magic. Despite this, she is not a fairy. Mind you…she sometimes wonders about her late granny. Lark has been writing stories since someone taught her how to spell. She lives in the island state of Tasmania where she walks with her dogs, reads, cooks, adventures with her daughter and dreams up new challenges for her characters. She is often smiling when she writes her stories. She hopes her readers smile as well.
~ o ~
Meanwhile, don't miss all the other amazing books on sale at Extasy Books.
Backlist Christmas stories are 50% off, and all other backlist releases are 40% off.