At our house, there's always a layer of sadness after the last crack of the bat in the final World Series game every fall – no more baseball, for months. A Wisconsin boy who grew up with the Milwaukee Braves, hubs is a baseball fan, through and through, and he's taught me so much about how to watch the game that I've come to love it, too.
Every February we'd watch for word about when the pitchers were headed to Spring Training, and then we'd eagerly follow our teams and await the season opening. Which teams? That's varied some, depending on where we lived. When we met, he lived a mere three blocks south of Chicago's Wrigley Field, and we were Cubs fans. Those were the days when you could make a split-second decision on a lazy weekday afternoon (no lights, no evening games in those days) and walk over to the game – and find seats, and not spend hundreds of dollars to see a game.
When we moved to Minnesota, and later, to Iowa, we followed the Twins. Now that we're out west, we miss Bert Blyleven's familiar voice and the after-game on-field strategy lessons put together by the Twins broadcasting crew.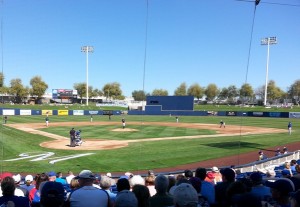 But our "back-up" team has always been the Milwaukee Brewers, partly out of Wisconsin loyalty, and especially because of my husband's mother. Widowed for the last decade of her life, she organized her days around those Brewers and  never missed a televised game. As her mobility decreased and her social network shrank, those players were her "friends." She followed their stories, cheered for them, and shouted at the manager when she thought he ought to have done something different.
So it was a special treat for us on Monday to take in a spring training game in Phoenix and watch the Brewers battle the Cubs. They lost, but that didn't even matter – we saw some of those "friends" in person.
I wish she could have been with us at the game – I kept wanting to call her up and tell her we were watching Ryan Braun, who got two hits and scored once, bringing his batting average to .800. Carlos Gomez (a former Twin) was another of her favorites. Ryan at bat is featured in these two photos.
We don't often write team sports into our fiction – probably because, outside of my husband's high school baseball career, neither of us has played them. But here's a little taste of some softball that crept into one of our favorite stories: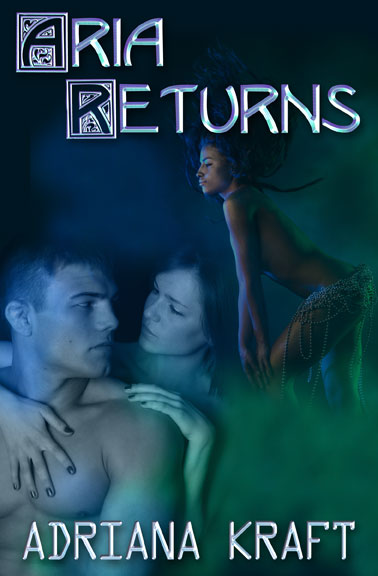 Can the immortal love goddess Aria heal not one,
but two traumatized hearts—and if she succeeds,
will those hearts open to each other?
EXCERPT
At the sound of the crack of the bat and cheers from the bleachers, Jeff stopped to watch the speedy batter dash for first base. She wasn't tall, but she sure was quick. She never hesitated rounding first but dug in for second, the ponytail sticking through her red ball cap bouncing recklessly.
He glanced quickly at the left fielder, who picked up the groundball cleanly. It was going to be close. The runner dove in headfirst just ahead of the tag.
When the ump called her safe, the runner rose nimbly to her feet and brushed off the front of her jeans and tee. She smiled at her cheering teammates.
"Way to go, Amber!"
"That a girl!"
"You rock, Amber!"
Jeff gasped when the base-runner pushed back her ball cap to straighten her ponytail. It was her—his mystery woman, the girl he couldn't get out of his mind the past two weeks. The woman who had failed to come back to the deli.
He gave her a big wave.
He knew she saw him. But did she recognize him? Did she want to? He saw her scowl and then lift a hand just above her waist. That was hardly a hearty wave, but he'd accept it for a sign of recognition.
"Come on, Conway," bellowed Jeff's teammate. "Stop ogling the babes. We can't be late for the game. Coach will be pissed as hell if we aren't there to take the field."
"I'm coming," Jeff said, reluctantly starting to move. Their diamond was three down from this one. Maybe she'd drop by to check him out after her game finished.
Walking briskly away, Jeff put his game face on. He grinned. At least she had a name. Amber.
BLURB
Traumatized by the boyfriend from hell, Amber Heath makes a desperate plea for help—and is shocked when the immortal love goddess Aria materializes and whisks her away to a nineteenth century Carnivale.
Jeff Conway is still reeling from his fiancé's betrayal and not about to risk his heart. But he's more than willing to play with the spunky sprite Aria brings to meet him at Carnivale.
Sometimes watching, sometimes joining in, and always coaching, Aria launches Amber and Jeff on an erotic journey back to health and playfulness. But even the love goddess can't force them to love each other.
BUY LINKS
http://www.extasybooks.com/aria-returns/
http://www.amazon.com/Aria-Returns-Colors-Night-ebook/dp/B00CPGU6PG
http://www.barnesandnoble.com/w/aria-returns-adriana-kraft/1116057698?ean=2940044608351
https://www.smashwords.com/books/view/328908
https://www.allromanceebooks.com/product-ariareturns-1224951-340.html