For as long as I can remember, I've loved vampires, but for just as long I've been hearing that vampires are obsolete. For all that, I haven't seen a shortage of them over the years, and I hope I never will. Vampire stories have undergone many changes. From traditional vampires to futuristic ones, they've taken on a variety of characteristics. Some vampires survive on blood. Others on energy. Some, like the ones in my Ancient Blood series, eat food as well as drink blood. In one fictional world, a vampire is a shapeshifter who can change into a bat or a wolf, but in another, they're born a vampire and can only keep one form. Vampire legends can be found all over the world, and new stories are created all the time. Every year there are new vampire books, movies, and TV shows, like the First Kill vampire TV series and the latest version of Interview with the Vampire.
Despite all the changes, what keeps vampires at the top of so many people's list of favorite fictional creatures? Is it the danger, the horror, the romanticism? Horror and romance fans both love them, although their characteristics in each genre might be different. Or maybe not. When it comes to the vampire, it's easy to cross genres. There's romance in horror, and horror in romance.
Perhaps that's the key. Vampires are unpredictable. They're appealing to a wide variety of people.
Are vampires going away? I don't think so. After all, they're immortal.
About Kate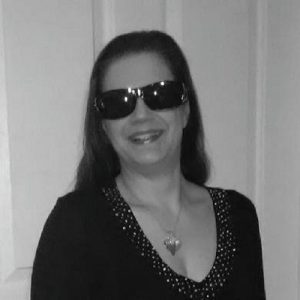 Kate Hill is a vegetarian New Englander who loves writing romantic fantasies. When she's not working on her books, Kate enjoys reading, working out, watching horror movies, and researching vampires and Viking history. She runs the Compelling Beasts Blog that is dedicated to antagonists, antiheroes, and paranormal creatures. Kate also writes as Saloni Quinby.
Visit her online at https://www.kate-hill.com. Join her newsletter at https://kate-hill.com/index.php/newsletter.
Contact Links
Website: https://www.kate-hill.com
Blog: https://kate-hill.com/blog/
BookBub: https://www.bookbub.com/authors/kate-hill
Goodreads: https://www.goodreads.com/author/show/16157.Kate_Hill
Pinterest: https://www.pinterest.com/katehillromanceandmore/
Twitter: https://twitter.com/KateHillRomance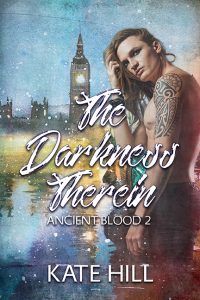 The Darkness Therein
Ancient Blood 2
by Kate Hill
Paranormal Romance, Vampire Romance
Blurb:
Jocelyn has chased his nemesis for centuries. He swore that nothing or no one would stand between him and revenge on the creature that destroyed his life. That same rival leads Jocelyn to the one person who can reconnect him to the human race.
Art student Charlie has no idea that her family history binds her to a creature of legend–until he appears in the form of a tall, beautiful man with a thirst for revenge. The last thing she wants is to follow his orders, but if she intends to stay alive, she has no choice.
Note: The Darkness Therein was previously published. This re-edited version contains additional scenes.
Excerpt:
"Jocelyn." Charlie shook him gently, frightened by the dullness of his eyes. "What can I do to help you?"
"If you could stay through the funeral," he whispered. "I do need you."
She narrowed her eyes at him. "What funeral? What are you talking about?"
"Sybil. I left her. She couldn't have suffered. The smoke kills you before the flames do."
Charlie felt ill as she realized he had no idea he was rambling about his past. She shook him. "Wake up, Jocelyn!"
"Charlie." His eyes, shadowed beneath and suddenly far too bright against his gaunt face, focused on her. "Go back to bed."
"You need help. Why don't you get some blood instead of staying here with us?"
"Isn't it like rape to take something from someone who doesn't want to give it?"
"We all survive off each other in one way or another." For the next few minutes she watched him in silence, forcing herself to overcome the fear of what would happen when he took her blood. She had to give it. He'd saved her life twice. How painful could it be, to give up a little blood? And why was she afraid now, when it the motel she'd wanted him to take it?
"When you drink blood, do you take it from the neck, like in the movies?"
He shook his head almost imperceptibly. "Only if I'm sleeping with someone. The wrist or the hand. There's less attachment that way."
"Go ahead." She held her wrist to his lips.
Shaking his head, he took her hand and squeezed it. "No. I'll get it somewhere else later."
"Jocelyn, you're getting weaker by the minute. You were hallucinating a few minutes ago. What good are you to me if you're sick?" Perhaps if she appealed to his sense of duty, he'd relent. "I want you to take my blood. Really."
Dropping her hand, he turned away from her. "I said go."
Purchase Links:
Amazon: https://kate-hill.com/the-darkness-therein/
Apple Books: https://books.apple.com/gt/book/the-darkness-therein/id6443994178
Barnes & Noble: https://www.barnesandnoble.com/w/darkness-therein-kate-hill/1008195192
kobo: https://www.kobo.com/us/en/ebook/the-darkness-therein
Smashwords: https://www.smashwords.com/books/view/1175373