Welcome to My Sexy Saturday! Halloween is almost here ~ Martha Richards is about to be visited by a pair of very sexy ghosts!
EXCERPT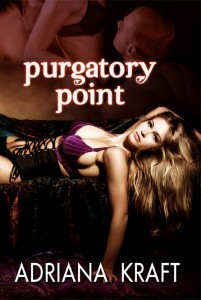 She needed to stay warm in the winter, and she wasn't about to flee back to civilization any time soon. It had taken all her gumption and most of her inheritance to buy Purgatory Point; she wasn't about to give up because of a chill in the air.
That decided, she closed her eyes and welcomed the drifting sensations of dozing.
He'd have strong hands. She'd have soft hands. Dan's fingers. Natalie's fingers. As if from a distance, Martha recognized her own soft moans. Her loins ached. It was an old ache, yet a familiar ache.
Her nipples pebbled and strained against the flannel gown. Fingers brushed against her inner thigh. She squeezed her legs tightly together, trapping them.
Whose fingers? Hers? His? Natalie's? She was dreaming. She knew she was. She had to be dreaming. She let herself sink farther into the darkness.
"That a girl," came a soothing whisper penetrating her fuzzy brain. "You're a passionate woman. Let it out. Cherish your passion. Let me help. Let me touch you."
"Natalie?" Martha whispered, unable to awaken.
A soft chuckle answered. "Not this time. Maybe later if you allow yourself. Now let me help you."
BLURB
A tender ghost story and a sizzling erotic romance with a splash of BDSM, Mistress of Purgatory Point is also the deeply moving chronicle of the mid-life sexual awakening of a stoic widow who thought she'd already experienced her one allotted love. One man, two women and two ghosts keep love's fires burning through the deep chill of a North Woods winter—but which love will hold the key?
BUY LINKS
E-Book
Print: Mistress of Purgatory Point and Return to Purgatory Point are available in a single print volume, Purgatory Point

Click on the list below to travel to the other authors: