Welcome to MidWeek Tease, where authors share tempting snippets to tide you over till the weekend. A huge shout out to author Angelica Dawson for hosting our blog hop every week!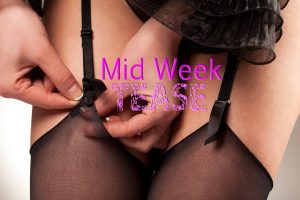 Meghan's Playhouse, Book 3, is now available at
Amazon.com,  Kobo,  and Extasy Books.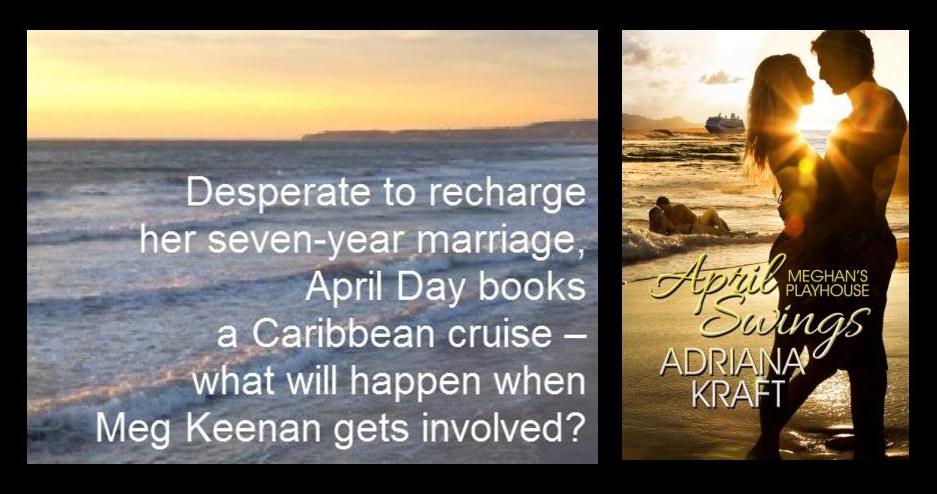 Today's our last taste of April Swings for a while – next week we'll turn to our erotic Christmas stories!
EXCERPT
Set-up: Derek has just returned to his and April's suite after a solitary lunch and a couple beers…
Derek strolled into the sitting area and plopped down on the couch. He flipped on a lamp and picked up a magazine when a noise from the bed alerted him that he was not alone.
He blinked, adjusting his eyes to the dim light and to the surreal scene. Two masked women knelt on the bed facing each other with their heads turned toward him. The gauzy curtain separated them from him, but he could tell that one was a blonde and the other had auburn hair. They wore equally transparent gowns. He stared hard but couldn't decide whether they were actually wearing masks or if they'd painted their faces. Each woman thrust her tongue out at him as if beckoning him to join them.
Derek sat rigidly on the couch. He wasn't about to join this game. He wet his lips. Had his body been planted in cement? He couldn't move a muscle to leave.
"Glad you got back in time for the main act."
Derek swallowed hard at Meg's taunt. They were hardly trying to conceal their identities. Had they actually waited for him? Maybe the actress could only perform in front of an audience.
"You can join us if you want," April said.
BOOK INFO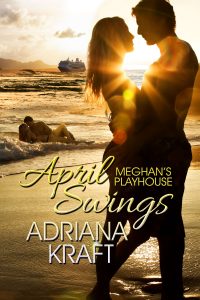 April Swings
Meghan's Playhouse:
Book Three
October 13, 2017
5 Flames:
Explicit Sex, MF, FF
Ménage, FFM, FMF, FMFM
BLURB
April Day deeply loves her husband, Derek, but something's missing. To heat things up, she books them on a Caribbean cruise for their seventh anniversary. She's not sure what she's looking for, but she knows she's found it as soon as she spots the delectable sprite of an actress who stars in the ship's daily shows.
Meghan Keenan's having a blast with her latest squeeze, Clark Hendricks, who writes and directs the shipboard main shows. Should she turn down April's request to heat up her marriage? And if she accepts, where will Clark fit in?
Derek is stunned by his wife's brash pursuit of the hot young actress. Must he match her boldness to keep her from leaving him?
BUY LINKS
https://www.amazon.com/dp/B076H826D9/
http://www.extasybooks.com/april-swings
https://www.kobo.com/us/en/ebook/april-swings
~ o ~ o ~ o ~ o ~ o ~
Don't forget to stop by all the other fabulous Midweek teasers: