Welcome to another round of My Sexy Saturday, where authors offer seven words, sentences, or paragraphs from their work for your entertainment. Be sure to click on the graphic at the bottom of the page and visit the other participants.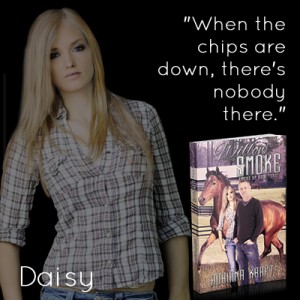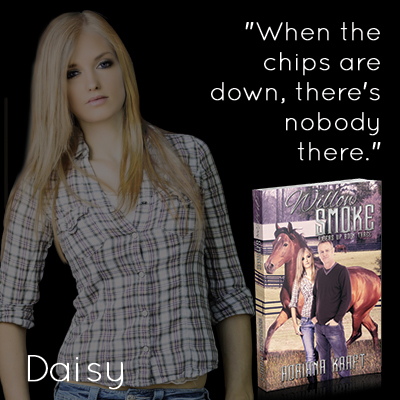 Daisy's not looking for romance – she just wants to make sure she's not still a virgin when she turns twenty-one in a few weeks, and she's chosen Nick: safe, tender, always a gentleman, and someone who wont want or expect romance. She thinks…
EXCERPT
Daisy gulped three deep breaths to clear her head. Seduction must be like swimming in the cold water of Lake Michigan. You had to dive in quickly, or you'd lose your nerve. She rapped on the door between their suites and turned the knob without waiting for a response.
"Hey kid," Nick said, his eyes widening. He sat propped up on the king size bed with a folder on his lap. He wore pajama bottoms and nothing else. "I thought you went to bed an hour ago. I've been going over some dull reports."
His eyes scrolled up and down her body. She couldn't read the heavy emotion in them. She had on a thin nightgown and a robe which she hadn't bothered to close. As he'd said on an earlier occasion, if she wanted to hide her wares she should remember to tie the sash. She wasn't into hiding, not tonight.
"Damn," Nick said, "I've never seen horse slippers; they're sexy as hell."
Daisy looked in horror at her slippers; blood rushed to her head. How juvenile they must appear! Cassie had bought them for her sixteenth birthday and she'd loved them. Although they'd worn out on more than one occasion, she'd sewed them up.They often provided solace. Would they be her undoing tonight?
Nick put the folders on the nightstand. "So what's up? Still running on adrenalin? Can't sleep? It was a terrific day."
She saw his shoulder muscles tighten. Daisy tried to smile. She been bold, but now what? Those videos only showed people in bed, not how they got there. Be practical, girl, be straightforward had always been her grandmother's advice. She didn't know if her grandmother would approve of what she was doing, but that was probably the best advice she was going to get. "I need your help," she blurted out. "I need you to make me a woman." She remained standing just inside the doorway; her escape route was handy if she failed.
BUY LINK
http://www.amazon.com/dp/B00N0DH13I
BLURB
When the chips are down, there's nobody there. Willowy blond Daisy Matthews has survived the Chicago streets with this mantra but is unprepared for the much older Nick Underwood's urgent pursuit. The wealthy businessman receives a thoroughbred in payment for a bad debt and is thrust into Daisy's world. She teaches him about horse racing; he teaches her about love. When Daisy's seamy brother-in-law threatens Nick's safety, she doggedly tries to stop him by herself, but flees to the familiar streets when he attacks. Can Nick find her in time – and if he does, will she still want him?
MY SEXY SATURDAY
Be sure to use the links below to check out the other fabulous authors on our weekly hop!