Welcome to MidWeek Tease, where authors share tempting snippets to tide you over till the weekend. A huge shout out to author Angelica Dawson for hosting our blog hop every week!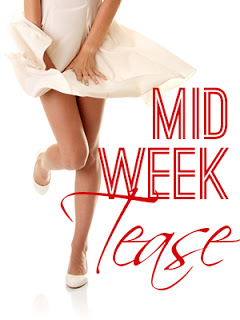 Did you like all those teasers from our Romantic Suspense, The Painter is a Lady? We sure hope so—but now it's time to switch gears! Our next release, coming in May, is a re-release of an M/F/F erotic ménage romance series that's been unavailable for a couple years.
To celebrate that, we thought we'd dip back into another of our M/F/F ménages, The Reunion. This 2013 release won the 2014 award for Best Bisexual Erotic novel from the Bi Writers Association and was a Top Pick at both The Romance Reviews and Night Owl Reviews.
BLURB
Dark and brooding, Adam Granger was always the bad boy out of reach—but now he's in Sarah Atkinson's bed, the morning after their twentieth high school reunion. When Adam beats a retreat to his Pacific Palisades estate, former good girl Sarah throws caution to the wind and pursues him.
Petite copper-skinned Maria Ramirez greets Sarah at Adam's front door. The former exotic dancer doesn't challenge Sarah's assumption she's the maid—how long will it take the dark-haired beauty to figure out Maria is Adam's live-in lover? Better yet, how long before Maria can entice her into their bed?
Determined not to rock his hard-won lifestyle, Adam resolves to push Sarah past her sexual limits so she'll leave. When she stays, he watches helplessly as the two women fall in love with each other. Will they shut him out? And, if they let him in, what must he sacrifice?
EXCERPT
Here are the opening sentences:
Cranking one eye open, Sarah Atkinson confirmed the obvious. There was a man in her bed. She hadn't seen one of them naked in years.
She carefully memorized his rippling muscles rising and falling gently in sleep. The dark-haired hunk wasn't just any man. He was Adam Granger!
Absently, Sarah threaded fingers through her moist pussy curls.
BUY LINK

~o~             ~o~               ~o~
All the marvelous authors below have teases waiting for you – click to travel!