Welcome to the St. Patrick's Day Blog Hop, organized by the fabulous Carrie Ryan. We've got the pot of gold from the end of the rainbow for one lucky winner today – oops, well, not really, but you can check out the fabulous prizes HERE, including winner's choice of a Kindle Fire or a Nook Tablet! Links to all posts are below!
More prizes – a $10 gift certificate to All Romance Ebooks, comment here on ur blog  to be entered. And for an even larger prize – sign up for our Newsletter (check out the left side column for the sign up form) to enter our April 1 drawing for a $20 gift certificate so you can load up that E-Book reader after you've won it!
So leave a comment here to enter for the grand prizes plus a $10 certificate. Sign up for my Newsletter to enter for a $20 certificate. THEN go to the other 120 authors and do the same on theirs. EACH blog has a giveaway and is part of the grand prize. You can enter on each post and have your name in the pot 120 times to win the grand prize!
Contest ends at 11:59 PM EST.
St. Patty's Day ~ Green or Orange?
My earliest St. Patrick's Day memories are from elementary school – probably third or fourth grade, when I had no clue and got pinched by a classmate for not wearing green. My mother didn't seem to know too much about it either – but then that makes at least some sense, given that as far back as we've been able to track her genealogy, there don't seem to be any Roman Catholics. French Protestants (Huguenots) and Scotch Irish (Presbyterians) didn't cuddle up too much with Christians who honored Rome, a trend reaching at least back to the sixteenth century.
Those factoids, once I came to understand them, gave me quite the dilemma: get pinched, or be disloyal. I opted to go green, but I remember feeling at least a tinge of guilt.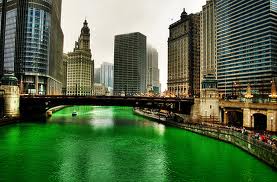 I think it was my grad school years in Chicago that turned the tide. There is nothing quite like being downtown for that parade and seeing an entire river turn green – it's simply a celebration, and no one really cares what anyone else's heritage is. I've worn green on March 17 ever since, and even learned to make boiled dinner with beef brisket (on tonight's menu!).
As much fun as I've had with the wearin' o' the green, I feel I always must pause to honor the deep tensions and centuries of struggle between Protestants and Catholics in Northern Ireland.  A Universalist who honors all paths to the sacred, I find my heart breaks for persons and nations who fight one another for religious reasons. I'm relieved that Ulster is finally relatively peaceful and hope it will be lasting.
Hubs and I take these values into our fiction (no surprise there!). We champion the underdog and write characters who do the same. Our most recent release is part of a book filled with such characters – the Lesbian Erotic Fiction anthology Sapphic Planet, where we have a short story, "Accidental Contact." Here's the book blurb and our story blurb – and you can link to a couple of excerpts HERE and HERE.
Sapphic Planet
BLURB
Welcome to the Sapphic Planet, a literary realm where women are free to love one another without fear of prejudice or reprisal. Inside these pages you'll discover nineteen stories written specifically to tease and titillate your senses.
From a frolic in the rain with a Bathing Beauty, to a concerned sibling showing his sister some Brotherly Love, and everything in between – whether you're in the mood for steamy romance or unrequited lust, we've got a story guaranteed to satisfy your cravings.
This anthology showcases just a fraction of the talent from the writers of Sapphic Planet, a group specifically created for authors and aspiring authors of quality lesbian literature. Now sit back, relax and enter our world. Afterwards, while waiting to catch your breath, take a moment to visit us online at www.sapphicplanet.com
"Accidental Contact" is a lesbian cougar story. Natalie and the much younger Bridgette are real estate agents who've often traveled together for business seminars. Now they're snowbound in New York City in a hotel room with only one bed. Will Natalie dare to make her move?
HERE'S THE LIST!