What could college English Professor Caitlin Shanahan ever have in common with the brash carpenter Kurt Davis?  The sexy sprite Meghan Keenan, that's what. 
PRE-ORDER
Meghan's Playhouse, Book One will release at Extasy Books next Friday, May 26, but you can pre-order it now at this LINK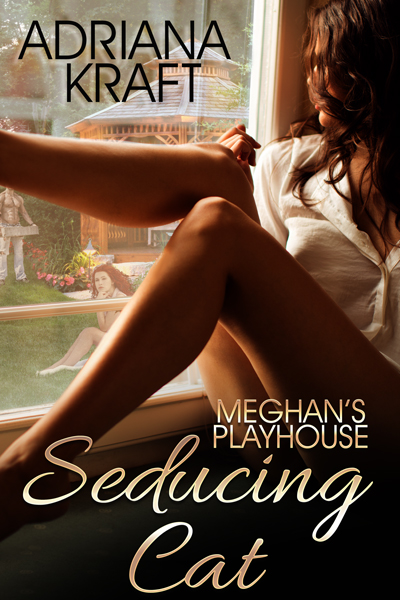 We're thrilled our F/F/M Ménage series Meghan's Playhouse is being re-released by Extasy Books after being unavailable for four years. When we first began writing Book One: Seducing Cat, we had no idea we were beginning a series. We invented a modern day bisexual Aphrodite, a matchmaker who thrives on bringing other couples together by sharing her sexual delights with both partners. We set out to write a sexual romp, nothing too serious. But once we had our characters, we discovered they have goals and motivations of their own…
Being academics ourselves, we felt we understood Cat, our college English professor. But we both come from families filled with working class relatives and have a deep respect for those differences. We thought perhaps Cat had a lesson or two to learn. It may not be too surprising that our hunk of a carpenter, Kurt Davis, has prejudice of his own to overcome. We think maybe he'll manage!
Meghan? What's her motivation? She's merely twenty when the series opens, and the small town world she inhabits is her apple. She loves sex, with either gender, and isn't ready for anything too serious for herself. We ended up playing along with her for the first four books – she'll get a happy ending in the final book, but we're not giving away any secrets!
All five original books in the series have been completely revised and re-edited at Extasy Books, plus we've added one of Meg's adventures that will release as part of Extasy's Holiday Shorts in December.
BLURB
Level headed English Professor Caitlin Shanahan has finally earned tenure and purchased the century-old two-story house of her dreams in the college town of Burntside, Wisconsin—at thirty-four, she'd better face facts: her future is teaching college and writing plays, not falling in love.  So why is she so drawn to foxy little hometown actress Meghan Keenan, who's rented her upstairs apartment, or worse, to the girl's gorgeous hunk of a lover Kurt Davis, a carpenter who's never even been to college?
Twenty-year-old Meg has a plan. First she'll seduce the reluctant professor, then she'll share her sexual delights with both Cat and her brawny carpenter, and when she's successfully brought them together, she can make her escape and explore what's beyond the only town she's ever lived in.
Kurt can't stand the up-tight professor who's hired him to build a gazebo and refurbish her old house—the house he wanted for himself. Even if Meg's scheme succeeds, he knows Caitlin would never look at him twice.  No need to go there in his fantasies…