We're so excited Book Five in our Meghan's Playhouse series has been updated, re-edited and re-released today at Extasy Books!
Time off in Vegas with her latest squeeze? Nothing could be better—unless maybe Meg adds another woman, or perhaps another man as well. What happens in Vegas…
Are you ready for an older erotic romance hero? Mr. Kraft and I are baby boomers, so we enjoy bringing you characters at mid-life or later who offer hope that there's no need to give up on staying sexy! Our professional gambler in this story is fifty one – think he can keep up with Meg? How about Meg and her message therapist? We think they'll give readers a fun ride!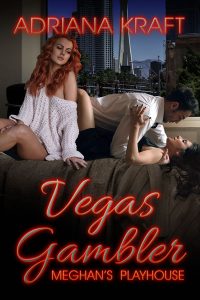 Meghan's Playhouse Book 5
Vegas Gambler
February 23, 2018
Five flames
Just when Meg thinks she'll heat up Tia and Tony's relationship, Tia turns the tables to hook Meg up with Tony—but the real winner is the Vegas Gambler, Jack Hawthorne.
BLURB
Fresh with success from a recent stint in a musical on the Las Vegas Strip, Meghan Keenan takes some time off to play with her current flame Jack Hawthorne, professional poker player. She's delighted to add her petite masseuse Tia Minh to the mix and even more thrilled when she learns Tia's relationship with her boyfriend Tony Sanders is on the skids. It's the perfect challenge!
Tia has different ideas – she thinks Tony would be perfect for Meg, and she conspires to throw them together any way she can.
Ever the gambler, Jack catches onto her game quickly and keeps the ruse going behind Meg's back. Who knew his heart was up for grabs?
Buy Link: