Welcome to The Romance Reviews Fall Into Romance HOP! You won't want to miss the fabulous prizes, wonderful authors and bloggers, and all the great books to add to your TBR list! Click on the graphic to be taken to the other hop participants, and be sure to scroll to the bottom of our page and enter for two free downloads! 
REVIEW: Waking Up Gray, by R. E. Bradshaw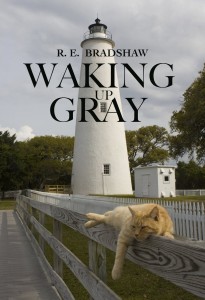 I can't remember how I first "met" R. E. "Decky" Bradshaw on line. I'm pretty sure it was at a podcast of lesbian fiction, probably in 2011, but I can no longer find traces of that event.
All I remember is her magical, rich, descriptive words transporting me back to the Outer Banks of North Carolina, where I spent not enough time during my North Carolina college years.  I was hooked, and I purchased Waking Up Gray and devoured it.
"Rich" is the word that keeps popping up – not only for the landscape in which her fiction immerses the reader, but for the texture and complexity of the characters and their relationships. For me, this is lesbian romantic fiction at its best: Real, ordinary people, living out their lives, finding true love, struggling (for some) with sexual identity issues, and claiming their passions.
I've followed her on Facebook and dropped in on her blog occasionally since then, so I've come to have some sense of how her history feeds her marvelous stories. A product of those Outer Banks, she describes herself as a reckless tomboy in her childhood, getting into endless scrapes, both with and without her brother. I'd love to know how much of Gray's character is unadulterated Decky – lots, I'm guessing, an electrifying counterpoint to the more sedate and scholarly Lizbeth, who's never kissed a girl.
The romance between Gray and Lizbeth unfolds with just the right doses of madly-falling-in-love and heartbreaking misunderstandings, and is punctuated by the dangers of a tropical storm bearing down, as they so often do, on the Outer Banks. This review wouldn't be complete without a shout-out for Decky's wry sense of humor, complete with impeccable timing and keen observation skills. Laugh-out-loud moments were too numerous to count, which is also true for her blog and Facebook posts.

I loved everything about this book and award it five stars. If you buy it, I'm sure you'll be back for more from this award winning lesfic author.
– o –
Of course, I loved Waking Up Gray for some of the same reasons I love co-writing romance about lesbian and bisexual heroines with my husband under our pen name.  Our next polyamory romance, The Reunion, will release on September 15 and will be free at Amazon for the first five days, September 15-19.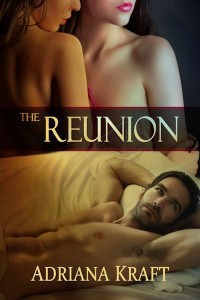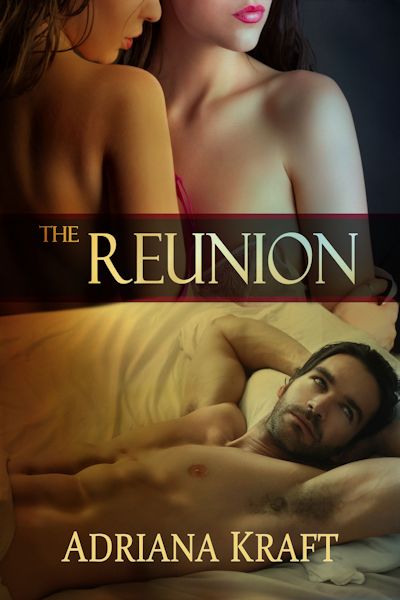 BLURB
Dark and brooding, Adam Granger was always the bad boy out of reach—but now he's in Sarah Atkinson's bed, the morning after their twentieth high school reunion. When Adam beats a retreat to his Pacific Palisades estate, former good girl Sarah throws caution to the wind and pursues him.
Petite copper-skinned Maria Ramirez greets Sarah at Adam's front door. The former exotic dancer doesn't challenge Sarah's assumption she's the maid—how long will it take the dark-haired beauty to figure out Maria is Adam's live-in lover? Better yet, how long before Maria can entice her into their bed?
Determined not to rock his hard-won lifestyle, Adam resolves to push Sarah past her sexual limits so she'll leave. When she stays, he watches helplessly as the two women fall in love with each other. Will they shut him out? And, if they let him in, what must he sacrifice?
HOP CONTEST
One lucky reader will win a free download of Waking Up Gray, plus one download of their choice from any single-author title on our book list.
How to enter? Just leave a comment answering this question: What do you like best about your favorite author? Use the Rafflecopter link below; extra (optional) entries for liking our Facebook page, following us on Twitter, and tweeting about the giveaway. We'll have Rafflecopter pull a winner September 22.