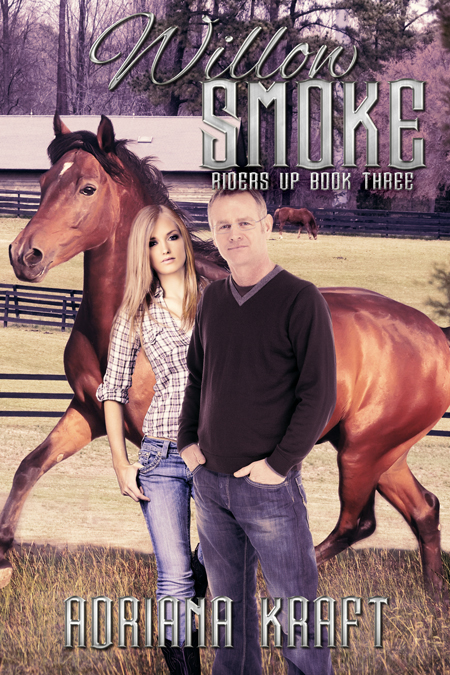 Willow Smoke
SERIES Riders Up, Book Three
September, 2014: B&B Publishing
ISBN: 978-0-9907476-0-4
Romantic Suspense, 88,000 words
Cover by Rebecca Poole
When the chips are down, there's nobody there.
Heat rating:



(explicit sex, m/f)
BUY LINK

REVIEWS
Five stars at Amazon "Adriana Kraft has created memorable characters that linger long after the story has ended and I've closed the book. She has done what an author should—brought me into the book's world and made me care about the characters so that my world will not be the same as before their foray into it." Sheila G.
Five stars at Goodreads "Suspenseful, intriguing and truly romantic! What a fabulous story of the blending of two worlds… the plot twists and turns and keeps you on the edge of your seat and the pages turning." Risha C "…dreams can become reality, love can transcend age… Exciting, engaging and very entertaining story. The character interplay is spot on and the story is extremely well written." Donna H.
BLURB
When the chips are down, there's nobody there. Willowy blonde Daisy Matthews has survived the Chicago streets with this mantra but is unprepared for the much older Nick Underwood's urgent pursuit. The wealthy businessman receives a thoroughbred in payment for a bad debt and is thrust into Daisy's world. She teaches him about horse racing; he teaches her about love. When Daisy's seamy brother-in-law threatens Nick's safety, she doggedly tries to stop him by herself, but flees to the familiar streets when he attacks. Can Nick find her in time – and if he does, will she still want him?
EXCERPT
"So tell me," Nick said, "where can I find a horse named RainbowBlaze?"
"RainbowBlaze!" Daisy gasped and glared at him again. "Why? What do you want with her?"
"Damn, you've got to be the most protective woman I've ever encountered. If you must know, she's my horse."
Daisy opened her mouth as if to speak. She glanced quickly at the chestnut mare. "There must be a mistake," she stammered. "RainbowBlaze belongs to Michael Barnes."
Nick crossed his legs and leaned against the stable wall, giving Daisy Matthews a slow satisfied smile. He'd found his horse. And he had a new employee. This could be more interesting than he'd imagined.
Furthermore, being his employee made Matthews safe to be around. He had a firm rule against personal involvements with employees. He flashed a look at the slender woman's nipples that showed faintly through an orange tank top. Didn't she know what she looked like?
Too young. He closed his eyes. He might be old enough to be her father. His eyes sprang open and he appraised her again. Maybe, maybe not.
"The horse did belong to Michael Barnes." Fright flickered across the blonde's face and quickly disappeared behind a steely gaze. "Mike's fallen on bad economic times. Turned out he couldn't pay his debts. Showed up at my office with a bill of sale for some damn race horse and begged me to take it to clear what he owed me. Against my better judgment, I agreed." Nick raised his open palms upward. "So, here I am."
Daisy's hands, resting at her sides, curled into fists.
"You look like you'd like to slaughter me for your supper." Nick stood. Ignoring the woman, he pointed at the horse with the oversized socks. "So I take it this is RainbowBlaze." He glanced back over his shoulder at the woman. She gulped and nodded. "Is the horse any good? How much can I get for her?"
Daisy sputtered and Nick suppressed a laugh.
"She's a damn good mare. She'll run her heart out for you, if you treat her right. But she won't work just for anyone."
"Sounds like you've got a thing for my horse, kid."
"Suppose so." Daisy studied the dirt at her feet. "I've known her since she was foaled. Was there to help her mother give birth. I've been there every step of the way when Rainbow was with Cassie Travers, and then when Michael Barnes bought her it was with the understanding that she'd come to Sam's barn and be with me."
When the woman stopped to catch her breath, Nick said, "You didn't answer my question. How much is she worth?"
Daisy shrugged. "Maybe," her voice quaked, "fifty thousand. Maybe more."
"Hmm. Michael said a hundred grand."
He watched the spirit flow out of the young woman. Her glistening eyes grabbed at something inside him that he hadn't experienced for a long time. Not thinking, he reached for her chin.
"That horse," he said softly, "means a lot more to you than a hundred grand, doesn't it?"