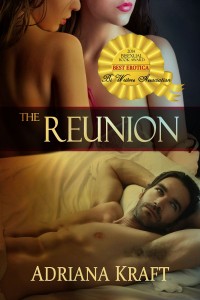 The Reunion
B&B Publishing: Ebook, Paperback
September, 2013    ASIN: B00F30CTLK
Novel: 71,000 words
Cover Artist: Dawné Dominique
A dark and brooding bad boy,
his petite Latina lover,
and his unattainable former highschool crush ~
a sizzling, combustible threesome.
Heat Rating 





 Explicit sex: M/F, F/F; Ménage: F/F/M, F/F/F; Multiple partners; Polyamory;  light bondage; voyeurism; anal sex; sex toys.
BUY LINKS
EBOOK

PAPERBACK

AWARDS
Winner of the 2014 Bi Writer's Association Award for Best Bisexual Erotic Fiction
REVIEWS
Definitely Recommended by Rainbow Book Reviews This book sizzled as two incredibly sexy women and one gorgeous guy form a super hot triad, eventually. These three are by far and away the best smoldering trio I have read about. Oh, bring on more of this, but read this one first! JJ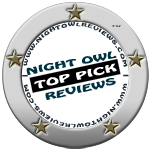 Top Pick at Night Owl Reviews "The Reunion" by Adriana Kraft is a polyamory novel with real edgy characters with inclusive sexuality. I will just say this is not a read for the faint of heart. … I found "The Reunion" a very easy flowing smooth read. All the characters are well developed and so colorful. Once you start to reading you will be hard put to stop until you are at the end. … Very well written!    ~ ArlenaDean


Top Pick at The Romance Reviews. Stories written by Adriana Kraft are done with a twist on the usual plots that you find within the genre. In this m/f/f ménage, the twist is the women fall for each other and the man is left to wonder where he stands… All of the characters are well-written; the sex scenes are scorching hot. The story flowed along nice and easy to read. This is another great read from Adriana Kraft. Laurie P.
BLURB
Dark and brooding, Adam Granger was always the bad boy out of reach—but now he's in Sarah Atkinson's bed, the morning after their twentieth high school reunion. When Adam beats a retreat to his Pacific Palisades estate, former good girl Sarah throws caution to the wind and pursues him.
Petite copper-skinned Maria Ramirez greets Sarah at Adam's front door. The former exotic dancer doesn't challenge Sarah's assumption she's the maid—how long will it take the dark-haired beauty to figure out Maria is Adam's live-in lover? Better yet, how long before Maria can entice her into their bed?
Determined not to rock his hard-won lifestyle, Adam resolves to push Sarah past her sexual limits so she'll leave. When she stays, he watches helplessly as the two women fall in love with each other. Will they shut him out? And, if they let him in, what must he sacrifice?
EXCERPT
Adam's gaze settled on Maria's. She witnessed pain before he was able to hide it.
"How was she?"
"Succulent." Maria wasn't going to lie. "You know, like when you take the first bite of lobster soaked in butter. It is so scrumptious you're not sure you dare take a second bite for fear it will disappoint. That's Sarah."
A flash of emotion flickered across Adam's face before he muttered, "I know. But you took a chance and went back for more. So will you take her from me?"
Startled, Maria chose her words carefully. "You've done little to hold onto her, if that's what you want."
"I took her slow," he said, defensively.
"Right. Even then you threw it back in her face by leaving her bed."