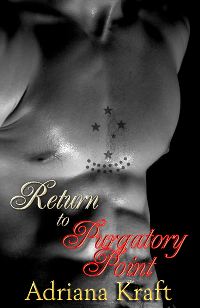 March, 2009     ISBN 978-1-55487-244-2
Extasy Books: EBook
Novel, 61,000 words
Cover by Martine Jardin
Two-way, three-way, four-way — this reality or some other — Natalie Bjorg thought she'd settled for a simple life, but now the possibilities seem endless.
Heat Rating





Explicit sex: M/F, F/F; Menage: M/F/M, F/F/M, four way; sex toys, anal sex, light BDSM
BLURB
Natalie Bjorg has carved out a satisfying existence at the edge of Northern Minnesota's Boundary Waters – part time canoe guide, proprietor of an upscale art and craft shop, and new owner of a snug lakefront home on Purgatory Point. What's missing? Romance – either gender will do.
World renowned photojournalist Eric Hudson has come home to claim the woman he's always craved, but with a hitch – his brother and sister-in-law recently moved to Purgatory Point. Will Susan seduce Natalie before Eric even has a chance? What if Todd and Susan together sweep her off her feet? Will Natalie consider joining their long established threesome?  And how will she react when she learns Eric has travelled through time with a tribal shaman's daughter?
The possibilities seem endless in this torrid saga of transcontinental and time travel pursuit.
EXCERPT
CHAPTER ONE
Huddling against a late night chill, Natalie Bjorg sat on a boulder at the Boundary Waters campsite she'd set up for her most recent clients. She tried to focus on the blanket of stars that seemed to hover just above the water. Maybe that would help her ignore the noises coming from her clients' tent.
"Oh God, I'm coming again!"
Natalie shuddered. Did Susan Rawlins have any sense for how sound traveled in the still night air? Natalie hugged herself. It wasn't that she disapproved. If anything, she was a little envious. After all, Susan's husband was Todd Hudson, who had been her teenage heartthrob. Three years ahead of her in school, he'd hardly noticed her existence.
Only recently had he returned to Ely with his wife. They'd bought the old Hopkins place on Purgatory Point and were turning it into a bed and breakfast. Apparently it was a labor of love as well as an investment. Still working part-time with an investment firm on Wall Street, Todd frequently commuted to New York City to meet with clients. From the grapevine and the local paper, Natalie knew Susan had had a rather successful career in dance. According to a news article, she'd suffered a career ending injury. That along with Todd's desire to return to the area that had held his heart since a teenager brought them back to Ely and to their dream of a bed and breakfast. The newspaper didn't comment on Susan's apparently quirky voracious sexual appetite.
"In my ass, Eric. Todd has my pussy humming. Hurry."
Natalie couldn't deny the pooling of her own juices as she failed to block out images of what was happening less than thirty yards away. She squeezed her eyes shut briefly. She'd been involved in three way sex, but never with two guys.