In To Love and To Cherish: An Anthology of Lesbian Love and Marriage
LoveYouDivine Books: Print and EBook
Edited by Lara Zielinsky and Beth Wylde
February, 2010      ISBN 1600544134
Short Story, 5000 words
Cover Artist: Lara Zielinsky
All profits from the sale of this book are donated to Marriage Equality USA
Heat Rating



Explicit sex: F/F; sex toys.
BUY LINKS
FREE READ (Excerpts)
AWARDS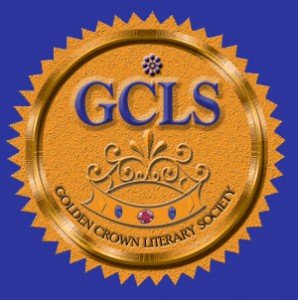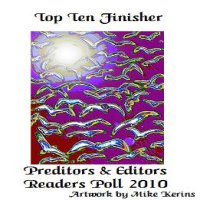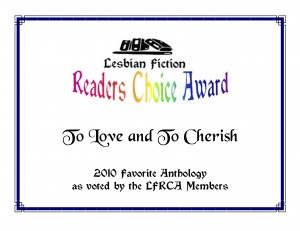 Finalist ~ Best Anthology
REVIEWS
Examiner  The stories are charming, sad, sexy, slapstick funny. There are tales of paganism and wiccan and Native American rituals and the perils of cooking for those who can't, quite. There's hardly a taste in reading or a style in writing that isn't well represented here and I can confidently assure the reader who invests in a copy that she or he will close this book knowing that the money was well spent. An excellent tribute to a genre, a gender, a lifestyle, and a welcome addition to the literature of love. Well done, all. ~   Victor Banis
GoodReads Readings Host, Five Stars: Each time I go through this collection I find something new and enjoy it even more. These stories aren't just lesbian sex… they're love and commitment in the smallest acts between women, and a celebration of that "big day" we're hoping all couples soon have… a wedding day. A celebration before family and friends showing their commitment 'to love and to cherish' always.  
Amazon 

 This diverse anthology of lesbian love stories – all centered around the decision, reality or aftermath of such commitments, to the extent permitted under local laws – presents a beautiful look at what this seemingly-political concept is really about. And, as a gay man, I could relate to many of the feelings expressed by the women depicted in the fourteen stories told by various lesbian authors… While the politics of such marriages aren't the focal point of the stories, the publishers recognize the importance of equal rights, and are donating 100% of the proceeds of the print book to Marriage Equality USA. Bravo on that action, as well as for an engaging (pardon the pun) read. Five stars out of five.  ~ Bob Lind
CSpot  If supporting marriage equality isn't enough to get you to give it a try, let me assure you that the stories contained in the three volumes are well worth the low price. These tales are different enough in style that I'm pretty sure that everyone will find several that they enjoy…there are some stories that have some seriously hot scenes. And, of course, they are all filled with love.~ Cheri
PODCAST: Author interviews and excerpts ~ listen to them HERE
BLURB
The deep chill of a Vermont winter will require lots of firewood, so canoe and wilderness guide Brandy Latham welcomes the help of her best friend, Stephanie Watkins. Newly settled in the lakeside house where she spent so many summers with her grandparents, Brandy's ready to think about warmth of a different kind, and she knows just who she wants to share it with.
Fresh from her divorce, Stephanie is finally clear what she wants, and it's Brandy. Has she been reading the signals right? Together the two friends saw, split and stack as they've done for many years. Can they dare to claim the fire that now ignites between them?
EXCERPT
Stephanie swallowed more hot chocolate and set the mug aside. Clasping her hands around her knees, she added, "Guess I wasn't very good at marriage, or at least at selecting the right partner."
"Don't whip yourself too hard," Brandy murmured. "It's not like I've been all that successful either. Caroline left once she figured out that living with a guide required sharing some basic responsibilities. She never got used to me being gone for days at a time. She wanted a playmate." Brandy shrugged. "It's not that I don't like playing, but I do have to make a living."
"I thought Caroline was an airhead, but," Stephanie said, then smirked at Brandy's sudden stare, "What do I know?"
"Maybe we're better at assessing each other's partners than our own." Brandy flashed an eyebrow. "As far as Tracy was concerned, she just wanted a warm bed and three decent meals a day for the winter. She was out of here at first thaw."
Stephanie shrugged at her friend. "So my mom tells me you can't change the past, but you can learn from it."
"That may take guts," Brandy said just above the crackling of the fire.
"I know." Stephanie tried to breathe.
Brandy giggled, breaking the mood. "Do you know you have a marshmallow mustache?"
"I'm not surprised. You have one, too. You couldn't squeeze another marshmallow into these mugs."
Brandy's lips parted in a tiny smile, then she dabbed at the corner of Stephanie's mouth.
Stephanie watched Brandy licking sticky marshmallow from a finger and felt her eyes go wide. She kept her hands knotted at her waist. Where had her boldness gone?
"Still some stuck," Brandy murmured, scraping her finger along the outline of Stephanie's upper lip. Brandy pulled away briefly and shook her head. "I could get a washcloth, I suppose."
Stephanie didn't reply nor did she flinch when Brandy darted her tongue out. She couldn't stifle a moan when Brandy's tongue slid along her lip, wetting and then lapping at it.