Do you say Merry Christmas? Happy Holidays? Blessed Solstice? Happy Hanukkah?
If I know what you celebrate, I'll respond accordingly. But out of respect for so many different approaches to faith, I've no wish to offend with an off-the-mark Merry Christmas.
Whatever you celebrate – or even if you don't – Mr. Kraft and I are aware the holiday season can be a roller coaster of excitement, disappointment, joy, and for some, grief and loss.
I think both Mr. Kraft and I will be glad to put 2021 behind us. While we've remained healthy and experienced successes, we've also had to navigate many events that were deeply troubling to us.
A few mornings ago, my classical radio station was playing Christmas music. I'm not sure I'd ever paid full attention to the third verse of It Came Upon A Midnight Clear, but these words struck me as especially apt, coming at the end of a tumultuous 2021.
Penned in 1849 by Edmund Sears, pastor of the Unitarian Church in Wayland, Massachusetts.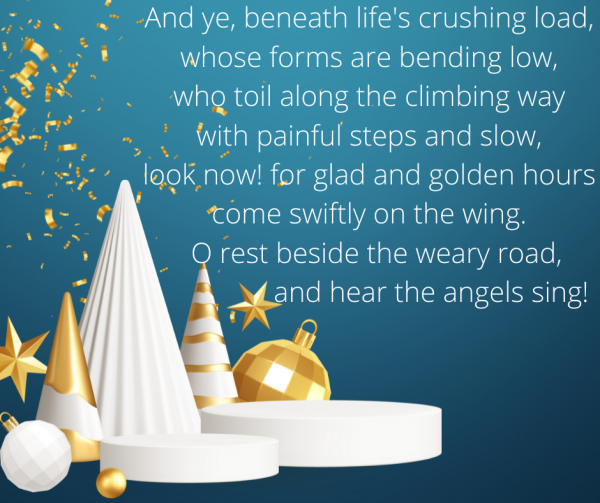 We probably all need a rest.
Perhaps we'll hear them singing.
In the words of our own tradition, we wish you glad tidings of comfort and joy.