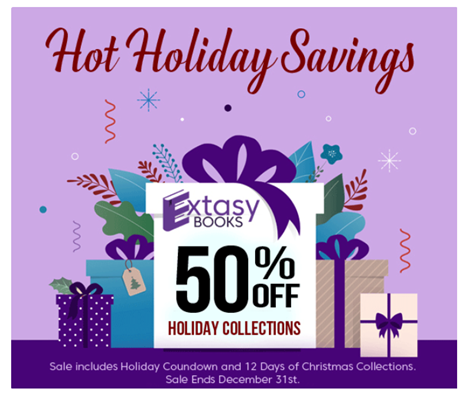 ALL Backlist Holiday Stories at my publisher, Extasy Books, are HALF OFF for the entire month of December! Lots of great authors to choose from, and Extasy purchases are easy-peasy to upload to your Kindle. Click HERE to learn how.
My Backlist Holiday stories include:
Joy Danser has believed in Santa since childhood—now Nick Polaris shows her Santa can deliver an adult package beyond her wildest dreams!
Assistant Mall Manager Joy Danser thrives on authenticity. All her mall Santas must have real beards so children can believe. But even she is unprepared for the very real Santa who visits her bed invisibly this Christmas season. Is she dreaming, or has she gone mad? Joy consults Sophia Nardiz, manager of the Magical Gypsy shop at her mall. Sophia reads her palm and gives her a cryptic message: she is at a crossroads, and she must trust her intuition.
Owner of the Magical Gypsy chain and a true Gypsy himself, Nick Polaris is thrilled to play Joy's Santa, in the mall and in her bed, but he knows it's only a lark. For true love, he'll need someone with Gypsy blood. How can he ever abandon the Scottish redhead he enjoys so much?
BUY AT EXTASY BOOKS FOR $2.00  https://www.extasybooks.com/santas-boss
BUY AT OTHER RETAIL OUTLETS  https://books2read.com/u/3nXJd6
Home and Garden assistant manager Evie Strand has painstakingly embroidered a set of seven thongs as a gag gift for her best friend—only she brought the wrong box to the store Christmas party, and now Adam Grant from Automotive is holding them up for everyone to see: Kiss my…, Tight Fit—could things get any worse? Adam may seem like a total rake, but he can tell Evie's deeply embarrassed and he resolves to make it up to her. Who knew where a simple dinner date would lead?
BUY AT EXTASY BOOKS FOR $1.50  https://www.extasybooks.com/a-gift-for-adam
BUY AT OTHER RETAIL OUTLETS  https://books2read.com/u/47gjK7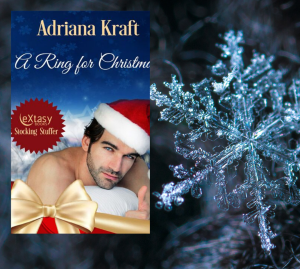 A Ring for Christmas ~ Just $1.00
A ring for Christmas? Sometimes what you hope for and what you fear are one and the same.
In Las Vegas for a brief stint in a musical revue and ready for some uncomplicated sex with a kindred spirit, Meghan Keenan is only too happy to resume connections with her sometimes lover, Lisa Perkins.
But Lisa's in a quandary. Her most recent boyfriend has suddenly become serious, with hints of a diamond ring in her future—and she's never told him she's bisexual. What if he freaks? What if he makes her choose?
Professional photographer Bryce Henry spends his days up close and personal with beautiful models and actresses. Now he's deeply in love with Lisa and ready to pop the question, but even he wonders about long term fidelity. What does he want, and how bad does he want it?
What will happen when Meg takes hold of Lisa's problem and runs with it?
BUY AT EXTASY BOOKS FOR $1.00  https://www.extasybooks.com/a-ring-for-christmas
BUY AT OTHER RETAIL OUTLETS  https://books2read.com/u/m2daPo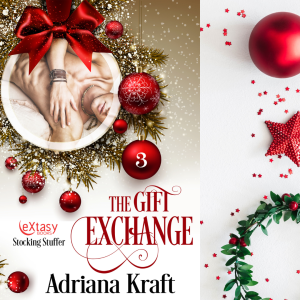 The Gift Exchange ~ Just $.80
It's Christmas Eve—what gifts will Mack, Carol and Tara unwrap together?
What is Carol up to now? Mack has always known his free-spirited wife is bisexual, but it seems she has new adventures on her mind this Christmas season.
Carol has long entertained fantasies of a threesome with herself, her husband, and their attractive nearby neighbor, Tara. Now that Tara's troublesome ex is out of the picture, is this the season to make her fantasies come true?
Tara's felt a little deprived since breaking things off with her ex, and she'll admit she envies what Mack and her best friend Carol seem to share. If they invite her to join them, will she dare?
BUY AT EXTASY BOOKS FOR 80 CENTS  https://www.extasybooks.com/the-gift-exchange
BUY AT OTHER RETAIL OUTLETS  https://books2read.com/u/bP7rqJ