Our April Rafflecopter contest is for an autographed (by us) print copy of The Cougar Book, edited by Jolene Du Pré. This spectacular anthology of sexy escapades by cougar women was published ten years ago by Logical Lust Books, and we still have a few print copies available.
We love all the stories in this book, and you will, too. Ours, A Taste of Ginger, is an enticing evening encounter between a mid-life new divorcee and a hot young stud.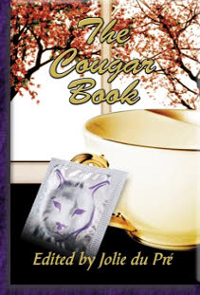 An incredible night of decadence and sensuality, or New Year's Eve alone at the bar?
BLURB
Against her better judgment, mid-life divorcee Ginger Nelson lets a co-worker talk her into spending New Year's Eve at a swing club to celebrate her final divorce decree. When Annette tells Ginger a handsome young man at the bar is checking her out, Ginger wants to run the other way—but Annette abandons her to pursue her own interests, and Ginger must make her choice for the night of a lifetime.
EXCERPT
"There's a handsome young man checking you out!"
"Where?" Ginger Nelson didn't dare look around the sweeping bar to where Annette James pointedly stared. It wasn't Ginger's idea to come to this swingers club. That was Annette's doing.
Apparently it was one of Annette's frequent weekend haunts. Ginger thought she knew her co-worker better than that, but they hadn't really started doing things together socially until recently, after her divorce. This was why she'd agreed to this crazy idea in the first place. Today marked the final divorce decree. She was a free woman again—at fifty-five.
"Don't be so uptight," Annette cautioned. "He's a hunk, and he's really looking you over."
"He's probably looking at you," she groused, staring into her wineglass.
Annette giggled. "No way. He doesn't even know I'm here. You could at least peek at him. That's why we're here, to look at the guys."
"That may be why you're here." Ginger groaned. "I know. I know you didn't force me to come with you tonight. But—but this is different than I expected. The music is too loud. People are making out right by the bar. They're all so young. And I feel so old." She tried not to wail.
"Nonsense! You're overreacting. There are plenty of people here our age. But don't dismiss the younger guys so quickly." Annette squeezed her friend's elbow. "I bet the guy undressing you at the end of the bar doesn't have a single gray hair on his body."
Frowning, Ginger cocked her head sideways enough to peer out the corner of her eye and catch a glimpse of the far end of the curved bar. "I don't see anyone. I only see a guy with a couple girls draped over him."
"Exactly. And his eyes are on you. Think of the girls as accessories. They're no competition. Not with you."
We also highly recommend an f/f story by Emerald, To Make it That Way.
EXCERPT
When people tell me I seem different now, my stomach clenches for a moment. At those times, there are two things I know: first, that they're right; second, that even though I am aware of precisely why, I could never explain exactly what happened to make it that way. It was, and still is, an enigma in my life.
I was twenty-one when I met her. Three of my friends and I were standing outside one of the bars we went to all the time when she pulled up in a black Toyota and stopped at the curb right beside us. I glanced over, and her eyes fastened on mine with an expression I couldn't begin to decipher. It was an expression I would come to know well. It meant that she was seeing me, really seeing me, and she saw something I needed that she knew she could give me.
"You," she said to me. Her voice was sweet but had an edge of command that made me jump even as she smiled. I moved forward to her open passenger side window and looked down at her.
She nodded at the bar. "You going in there to get laid, sweetheart?" I just stared at her, at a loss for what to say. Behind me, I could hear my tipsy friends shuffling and murmuring.
Her smile grew wider. "Why don't you come with me instead?" She kept her eyes trained on mine, and I grew no less stupefied as the seconds ticked by. I thought I hadn't understood her correctly, and I didn't give the idea that she was serious more than a second's—an elated second's—thought. She lowered her voice and made her intentions perfectly clear.
a Rafflecopter giveaway