Posts Tagged 'romance'
A Dark Prequel to Digital Velocity (The McAllister Justice Series Book 1)
by Reily Garrett
Welcome to MidWeek Tease, where authors share tempting snippets to tide you over till the weekend. A huge shout out to author Angelica Dawson for hosting our blog hop every week!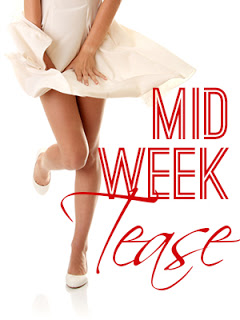 The Painter is a Lady is now available in paperback!
Available in EBook from the following retailers: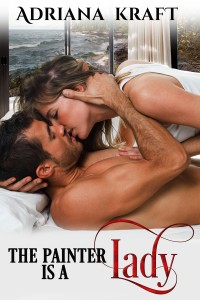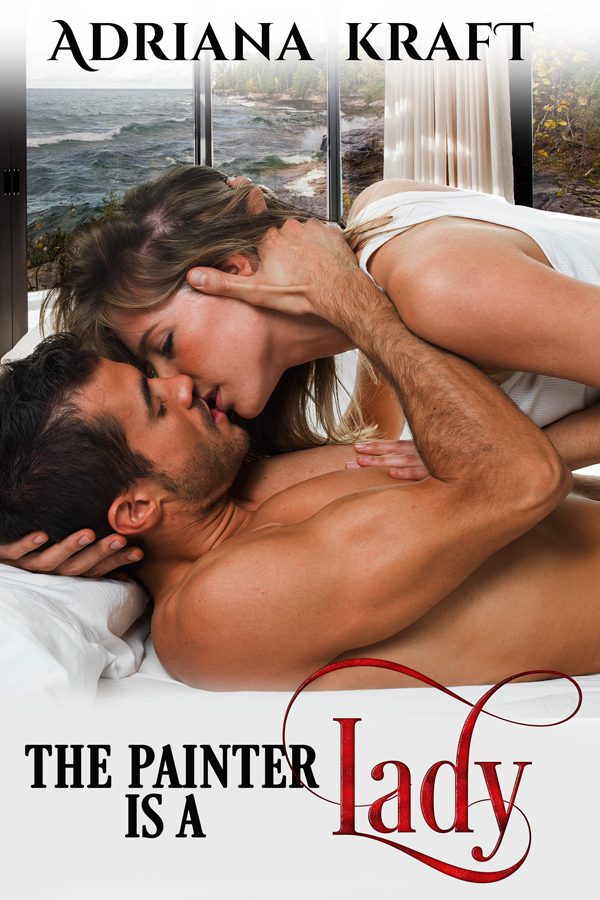 Secrets. Trust. Courage.
Who will knuckle under first—
The war hero?
The spirited single mom?
Or the former high school bully who still hates them both?
Word count: 74,600
Genre:
Romantic Suspense
Heat Level:
Three flames
BLURB
When war hero Michael Jarvis returns to his hometown on the shores of Lake Superior, he doesn't plan to stay—he's undercover, investigating a possible sex trafficking ring operating on the Great Lakes. But he does want to sample the pesky girl next door he always turned down—and it wouldn't hurt if she'd clear up a few mysteries of her own along the way.
Successfully established as an interior house painter, Brenda Tower finally has her act together as a single mom—but it hangs by a thread, a secret she'll guard with her life. The return of her youthful crush Michael Jarvis threatens to unravel everything.
Jealousy has inflamed Brett Hill's hatred of Michael and Brenda for as long as he can remember. Revenge will be so sweet—and it will fit in perfectly with his high stakes game.
When the secrets break open, can Michael and Brenda find the courage to trust each other, or will revenge and betrayal triumph?
EXCERPT
Hours later, Michael dried the china, crystal and silverware Brenda had brought out for his dad's birthday party that didn't go in the dishwasher. Tommy had gone to his room as soon as the others had left. No one seemed surprised that Michael had lingered to help with the dishes. More than satisfied with the turn of events, he hummed a show tune while Brenda fidgeted with the last of the silverware.
Remaining focused on scrubbing a stubborn piece of icing from a fork, Brenda muttered, "You're making me nervous."
"What?" He scowled at her profile. "Am I standing too close? Am I humming too loudly?"
Heaving an exasperated sigh, Brenda dropped the fork in the dishwater and turned to face him. "All of the above and much more. You didn't have to stay behind and help with the dishes. I can do this without you. I have for years."
"I'm sure you can. But that's not what's gnawing at you, is it? I thought you were coming around." He stared at her through half closed eyelids.
She blanched.
"You're the one who started the knee play beneath the dining table."
"I know." She shrugged, looking lost. "That was my impish clown, I guess. I can't explain it, Michael. I'm sorry. I dreamed about you for hours on end when I was a kid. I threw myself at you. But you didn't want me then. I was a fool."
"Maybe I was the fool," he replied softly, rubbing the back of his hand across her shoulder.
 ~ o ~             ~ o ~
Lots of fabulous authors have teases waiting just for you – click the links below to travel:

Today we're excited to welcome author Barb Caffrey and her intriguing story of transgender love, currently on sale for $.99!
Once you have found your soulmate, the universe will do almost anything to keep you together—even change your faces.
When I first started the story that became my new contemporary LGBT-friendly novel, CHANGING FACES, I had no idea what I was getting into. All I knew was one scene: my couple, Allen and Elaine, were in a crisis. She wanted to leave him. And that would've been a fatal mistake. So two aliens—or angels, as I wasn't quite clear yet what they were—decided to help them…the next thing Allen and Elaine knew, they'd been in a car accident, and Allen had woken up in Elaine's body in the hospital.
Where was Elaine, you ask? That wasn't so simple. She was…elsewhere, talking with one of the angels. (Yes, I decided they were angels, after a while.) And it was up to Elaine whether or not they were going to be able to go forward, albeit in different bodies than before.
This scene still exists in the current, final, version of CHANGING FACES. But the reason for that scene is not exactly what I thought it was, many years ago when I first started fiddling around with this story. You see, while Allen is a straight man in love with a beautiful woman, Elaine is gender-fluid, bisexual, and would rather be in a male body even though she will always think of herself as female.
Clear as mud, no?
So, how did I come up with this? I really don't know. Sometimes I think the stories pick me rather than the other way around. And Elaine being the way she is threw me for quite some time, because I'd never met anyone quite like her.
Mind, both Elaine and Allen are clarinetists and graduate students, and I've met many musicians. (I play the clarinet, saxophone, and oboe myself, and have two degrees in music.) So that part of Elaine—the part that loves music, and that derives satisfaction from playing it well—was completely comprehensible to me. Which did help me figure her out, after a while…but I digress.
How did I find Elaine's character? Oddly enough, it was through her love, Allen. Seeing how much he valued Elaine, and seeing how he viewed her, made an enormous difference to me as I wrote CHANGING FACES.
Granted, it was much easier for me to understand Allen. He's a guy who deeply loves a woman. Allen is different in that he loves Elaine's soul, not just her body. (More men should be this way. And more women. But again, I digress.) And he'll do anything for her—demonstrably, anything. So long as he can be with her, he's fine.
And if he has to be put in her body so she can heal in his, while he'll definitely not like it, he'll deal with it. Because that's just how much he loves Elaine.
And Elaine knows this. Because she loves him just as much. She wants to be with him and to live and grow and get married to him, be only with him, and love him until the end of time. But she was hurt badly, years ago (a gang-rape), and she never felt right in her own body anyway. This makes it hard for her to be open with Allen about who she is and what she wants and how to go about it…and it's why she was about to leave him at all, despite the fact she is desperately in love with him.
CHANGING FACES is a romance, so of course I wanted to find a way for them to be happy together. My solution—changing their faces—is not one I'd ever seen before. And getting two quirky, shapeshifting angels into the mix while I did it had enormous appeal because love is an incredibly important thing. Without love, we'd not be stirred to the heights of our creativity, and our passion would not be engaged, and we'd not be able to live and grow and get to know others as well as we know ourselves. Gender expression and sexuality matter a whole lot less than the soul does to love; if one soul calls to another, and is answered, that's what matters.
As I see it, true love matters to the universe. That's why I'm glad to tell Allen and Elaine's story in CHANGING FACES, and I hope you will enjoy it, too.
BLURB
Allen and Elaine are graduate students in Nebraska, have been together for seven years, and are engaged. They love each other very much, and have many things in common. Both play the clarinet, are teaching assistants, are well-respected and seem to have their lives firmly on track. In fact, their life should be idyllic, but Elaine's past includes rape, neglect, and abuse from those who should've loved her—but didn't, because from childhood, Elaine identified as transgender.
When Elaine tells Allen right before Christmas, he doesn't know what to do. He loves Elaine, loves her soul, has heard about transgender people before, but didn't think Elaine was one of them—she looks and acts like anyone else. Now, she wants to become a man and is going to leave.
He prays for divine intervention, and says he'll do anything, just please don't separate him from Elaine. And in the form of a car accident, he gets his wish.
Now, he's in Elaine's body. And she's in his. But both were injured, and Allen's old body (with Elaine inside) is in a coma.
Allen can't tell anyone who he is. But one thing's certain: if Elaine can wake up, he wants to be with her. He doesn't care what body he's in, or that he, too, is now transgender.
True love matters so much to the universe, once you have found your soulmate, the universe will do anything to keep you together—even change your faces.
BUY LINKS
Note that CHANGING FACES is on sale for 99 cents/99 pence for a limited time as an e-book…
Amazon (US): https://www.amazon.com/dp/B01N3CQKWJ
Amazon (UK): https://www.amazon.co.uk/Changing-Faces-Barb-Caffrey-ebook/dp/B01N3CQKWJ
Amazon (CA): https://www.amazon.ca/dp/B01N3CQKWJ
Amazon (AUS): https://www.amazon.com.au/dp/B01N3CQKWJ
Amazon (IN): https://www.amazon.in/dp/B01N3CQKWJ
Barnes and Noble: http://www.barnesandnoble.com/w/changing-faces-barb-caffrey/1125707044?ean=2940157587512
ABOUT THE AUTHOR
Barb Caffrey is a writer, editor, musician, and composer. She holds two degrees, is an inveterate and omnivorous reader, and is the writer of the comic urban fantasy romance AN ELFY ON THE LOOSE (book one of the ELFY duology), available now from Twilight Times Books. (Book two, A LITTLE ELFY IN BIG TROUBLE, is now out.)
Her stories and poems have appeared in many places, including GIFTS OF DARKOVER, STARS OF DARKOVER, FIRST CONTACT CAFE, HOW BEER SAVED THE WORLD, BEDLAM'S EDGE, BEARING NORTH, independently at Amazon ("To Survive the Maelstrom," co-written with Michael B. Caffrey) at the Written Word online magazine, at Joyful! Online, at Midwest Literary Magazine, at e-Quill Publishing, and at Vision online magazine (a publication of the Forward Motion Writers Group).  She reviews books for Shiny Book Review and, more occasionally, at Amazon.com for their Vine program. And once upon a time, she was an opinion columnist and arts and entertainment reporter for both the Daily Nebraskan and the University of Wisconsin-Parkside Ranger News; additional op-eds were published by the Racine Labor Paper and by the Racine Journal-Times (under the previous married name).
Blog: Barb Caffrey's Elfyverse https://elfyverse.wordpress.com
Twitter  @BarbCaffrey
Facebook: Barb Caffrey