Guest ~ AJ Wiliams
Today we're thrilled to welcome fellow Red Hot Authors Cafe member AJ Wiliams as our guest. She stopped by to answer a few questions, talk about her latest release, and share a steamy excerpt. Take it away, AJ!
Adriana: Why don't you start by telling us about yourself?
AJ: Hi, thank you for having me. I am originally for Arizona, but grew up in a small town in southwest Missouri, about 30 mins from the Arkansas border. I write contemporary romance at the moment. However, I am working on a science fiction story. So who knows…
When I am not writing, I am on play dates with my youngest and taking my oldest to school and extracurricular activates.
I love swimming, reading with my kids, and having quiet time. I also enjoy planting the idea in my children's mind that I have super powers.
Adriana: If you were stranded on a desert island with only five books and five CDs, what would they be? (We'll just imagine you can play the CDs – after all, this is fiction!)
AJ: 5 cd's would have to be Tool, Muse, Perfect Circle, Bush and Lorde
5 books I would have to pick Daughter of the Forest, Something by Sherrilyn Kenyon, Chole Neill (Chiagoland Vampires), Lauren Dane, and  The Bride by Julia Garwood
Adriana: Tell us about your writing: How long have you been writing? What genre(s) do you write in? What have you written (short stories, novels, etc.)? What works are currently for sale? Where?
AJ: I started writing poems as a kid. After moving from AZ to MO, I never really felt connected. I was told several times that I spoke funny. So I wrote, as I entered the teenage years writing proved helpful while I moved around liking boys, having arguments with my mother and so much more.   I did write small short stories, but those were just for me as a coping mechanism with puberty.
Currently on sale is Bounty for Hunter, Bounty's End, Bounty for Love and His Final Bounty. All my books can be found at Barnes and Noble, Amazon, All Romance Books, iBooks, Kobo and smashwords.
Adriana: What made you chose to write erotic literature in particular? Is there any other genre you'd like to write? And if so, why?
AJ: I didn't set out to write erotic, it kind of happened when working on my first book Bounty for Hunter. I want to write a science fiction. I have a story written that I am currently editing but I really want to branch out into that genre.
Adriana: How do you get ideas for your stories? What inspires you?
AJ: I get ideas from everyday life. Watching people interact at the store, the park when I am with my kids, restaurants when I am eating out. If I was honest I would say I get a lot of ideas while in the shower.
Adriana: Any advice for those who want to write?
AJ: Take classes when they are offered. Work on your craft, don't get discouraged and write every day, even if it is only a sentence.
Adriana: Are you a book hoarder?
AJ: I am a total book hoarder. I have books from my grandfather that are from the 50's. I not only treasure them as my grandfather gave them to me. I treasure them because I have to have books. Since having an ereader my print book consumption has gone down but my ebook collection is one that makes my own mother cry.
Adriana: Do you have a favorite character out of all the ones you've written? If so, who is it and why is s/he your favorite?
AJ: I would love to fully answer this, but at this time I can't and this is why. I have a couple other stories that I am working on and I love my lead female characters, so I won't speak of them just yet. However, I love Keylee who is in the first book. There is something fierce about her that draws you in and yet you can feel how vulnerable she is at times.
Adriana: Is there a way for fans and others to contact you? (email, social networking links, etc.)
AJ: I love hearing from fans – here are the ways to reach me:
Website:  www.ajwiliams.com
Blog: http://ajwiliamsromanceauthor.blogspot.com/
Facebook page: https://www.facebook.com/AjWiliams
Twitter: https://twitter.com/AJ_Wiliams
Goodreads:  https://www.goodreads.com/AJWiliams
Pintrest: http://www.pinterest.com/ajwiliams/
Adriana: Tell us about your latest release – we'd love an excerpt, too!
AJ: My latest release is His Final Bounty. It is the last book in the series. Jefferson Anders and Eva Rosenberg have had a rocky relationship, which has been featured in the prior books. This book is about them coming together, learning each other's secrets and finding the path to accept their mistakes to move on or start a new future together.  There is also danger, and great sex.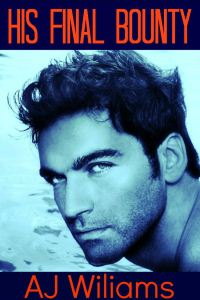 Title: His Final Bounty
Series: Bounty for Hire #4
Author: AJ Wiliams
Release Date: 3/24/14
Publisher: Self
Genre: Contemporary Spicy Romance
BLURB
Eva Rosenberg hacks a secret file of Jefferson's and discovers the man who shattered her heart and her world has one giant secret.
Jefferson Anders' current bounty hunting status has allowed him to hide in the shadows, never forcing him to face the secrets of his past. Having spent five years hiding the truth, he never dreamed the secrets of his past would catch up to him. Secrets which cost him both the love of his life and connection to his family. Now, he must face the mistakes of his past.
With a confrontation looming with Eva and a possible death threat, they must work as a team to find forgiveness and defeat the enemy that waits in the shadows.
PURCHASE LINKS
Author Website:  www.ajwiliams.com
Barnes and Noble:  http://www.barnesandnoble.com/w/his-final-bounty-aj-wiliams/1118956354?ean=2940149395361
Amazon: ​ http://www.amazon.com/His-Final-Bounty-Hire-ebook/dp/B00J7EUJ3S/ref=sr_1_1?ie=UTF8&qid=1395663323&sr=8-1&keywords=aj+wiliams
All Romance Books:  https://www.allromanceebooks.com/product-hisfinalbounty-1459230-149.html
Smashwords: https://www.smashwords.com/books/view/421479
EXCERPT
Eva wasn't sure when it happened, but her body called to her in a way that she hadn't felt in years. After all this time, he still wore Ralph Lauren Polo Black. She loved that smell. Her reaction to him spurred her body closer to his, lightly brushing her nipples against his side. Every sensation from Jefferson rubbing her back, to her tracing circles on his chest increased her breathing. Her nipples tightened and the dampness increased between her legs.
"Jefferson." Her voice was soft as she moved her finger to his nipple in a sensual circle.
"Eva," his growl pressed her to continue. There was something about the way he growled her name that caused her to stop circling and started to use her fingers to rub his nipple with her thumb and finger.
"You have to stop."
Lifting her head up from his chest, she kept rubbing his nipple as she looked into his eyes.
"Tonight, please just give me this one night. After that, we will go our separate ways. I just need to feel you."
"There will never be 'just one night' with us, Eva. If we do this, it's for keeps. Do you understand? I could never let you walk away, nor would I allow myself to walk away from you again."
His word slammed over her. His eyes danced in the light. She could see that he too needed tonight. As much as she wanted more nights, she didn't think she could ever give him more. Then again, maybe she could, but it all depended on him. She had the truth, but it didn't really ease the hurt she still felt in her heart.
She didn't respond at first, as her thoughts rolled through her mind.
"Tonight please, Jefferson. Just tonight."
"I'll give you tonight, but we will talk," he declared.
She didn't want to talk. She wanted all or nothing and tonight it was all. If she couldn't have tonight, then she could go back to having nothing in her life. She'd had five years of practice. What was another fifty? She nodded edging closer to his body.
"I mean it, Eva."
She didn't trust herself to say anything, afraid she might say no talking, just fucking, because that's all she wanted. She nodded again, placing a light kiss on his chest.
Lifting her head up she gazed into his dark eyes, waiting to see if he understood or at least accepted her response. He moved over, roaming her face and then his eyes narrow for just a second.
Please, she begged silently for him to just give her now.
She touched her lips to his. It was ecstasy. His full lips upon hers. At first, he didn't move, so she gave his nipple a pinch, causing him to open his mouth.