It's Spring! Hoppy Easter Bloghop!
What does springtime mean to you?
Welcome to the Hoppy Easter Blog Hop! Leave a comment to enter my contest for your choice of a download from my backlist, plus a $10 All Romance Ebook gift certificate, and be sure to check out all the other Hop participants and their great prizes at this LINK. For another chance at an ARE $10 gift certificate, sign up for my newsletter on the link to the left.
Spring came way early to the normally cold and blustery part of Iowa where we live. I was nervous all March long as daffodils poked up and erupted into full bloom and even tree buds swelled and started to pop. I'm still worried we might get another hard frost or snowy blast of winter, not uncommon here any time in April. But meanwhile hubs and I have reveled in warm sunny days for long neighborhood walks, I've puttered in my flowerbeds and we've both appreciated the somewhat cooler rainy days that seem to make it all possible.
My love for flowers comes from my mother, who learned it as a young school girl, hand in hand with her father through long walks in the woods at springtime. He taught her the names of all the plants he knew, and she passed along the names and the love to me. She and he are both gone now, but hubs and I like to carry on the tradition with a spring hike along the river trail in a nearby nature center. Here are some of the treasures we found last Sunday.
Virginia Bluebell    White Trout Lily     Wood Violet
So it's no surprise that we write lots of characters who also love flowers and the great outdoors. One of my favorites is Melissa Hopkins, the art student who stars in Smoldering Passion. We blogged about her in a favorite New York haunt a while back at this LINK.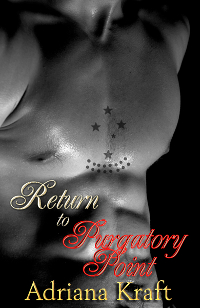 Today we thought we'd give you a peek at another one of our favorite outdoorsy heroines, Natalie Bjorg – Boundary Waters Wilderness Canoe Guide, in Return to Purgatory Point. Here's the blurb, cover and the opening lines:
BLURB
Natalie Bjorg has carved out a satisfying existence at the edge of Northern Minnesota's Boundary Waters – part time canoe guide, proprietor of an upscale art and craft shop, and new owner of a snug lakefront home on Purgatory Point. What's missing? Romance – either gender will do.
World renowned photojournalist Eric Hudson has come home to claim the woman he's always craved, but with a hitch – his brother and sister-in-law recently moved to Purgatory Point. Will Susan seduce Natalie before Eric even has a chance? What if Todd and Susan together sweep her off her feet? Will Natalie consider joining their long established threesome?  And how will she react when she learns Eric has travelled through time with a tribal shaman's daughter?
The possibilities seem endless in this torrid saga of transcontinental and time travel pursuit.
CHAPTER ONE
Huddling against a late night chill, Natalie Bjorg sat on a boulder at the Boundary Waters campsite she'd set up for her most recent clients. She tried to focus on the blanket of stars that seemed to hover just above the water. Maybe that would help her ignore the noises coming from her clients' tent.
"Oh God, I'm coming again!"
Natalie shuddered. Did Susan Rawlins have any sense for how sound traveled in the still night air? Natalie hugged herself. It wasn't that she disapproved. If anything, she was a little envious. After all, Susan's husband was Todd Hudson, who had been her teenage heartthrob. Three years ahead of her in school, he'd hardly noticed her existence.
Only recently had he returned to Ely with his wife. They'd bought the oldHopkinsplace on Purgatory Point and were turning it into a bed and breakfast. Apparently it was a labor of love as well as an investment. Still working part-time with an investment firm on Wall Street, Todd frequently commuted toNew York Cityto meet with clients. From the grapevine and the local paper, Natalie knew Susan had had a rather successful career in dance. According to a news article, she'd suffered a career ending injury. That along with Todd's desire to return to the area that had held his heart since a teenager brought them back to Ely and to their dream of a bed and breakfast. The newspaper didn't comment on Susan's apparently quirky voracious sexual appetite.
"In my ass, Eric. Todd has my pussy humming. Hurry."
Natalie couldn't deny the pooling of her own juices as she failed to block out images of what was happening less than thirty yards away. She squeezed her eyes shut briefly. She'd been involved in three way sex, but never with two guys.
~ ~ ~ ~ ~
…So springtime means getting outside and enjoying all that nature has to offer – even if it's not going to deliver quite the adventure that's in store for Natalie. To enter our drawing for a free download (winner's choice) plus a $10 All Romance Books Gift Certificate, tell us what spring means to you!